Article
Vocal for Local: Can India be self reliant? | Aatmannirbhar Bharat | PM Modiji Speech | The National TV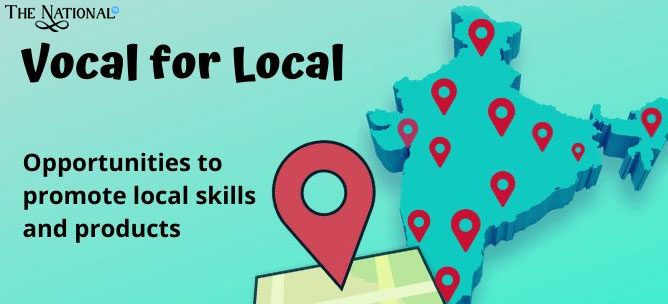 Prime Minister Narendra Modi's address to people on Tuesday, 12 May 2020 was to bring India's attention to local manufacturing and supply chains. He said, "It is time to be vocal about local." In his address to the country, he talked about "aatma nirbharta" which means self-reliance, and for that, he announced a package of Rs. 20 lakh crore. Now the question arises that how we can turn self-reliant and be vocal for local.
In the past 70 years, we have never trusted our indigenous industries and businesses. From the 1950s we allowed the development to take place from the public sector but when that failed then we welcomed liberalization, privatization, and globalization in 1991. Through that, we gave space for foreign direct investments, multinational company setups, and a new capital-based system. This made a huge change in the lives of Indians, initially, that proved beneficial for the country's growth but with growing times, we left our Indian products way too behind. This made indigenous businesses lag way too much in the race of profits.
The import of subsidized Chinese goods made people jobless and brought economic degradation. The economic inequalities rose to higher levels where people within our borders got no benefit of their work and several industries started becoming stagnant and dependant on government doles. These industries which could have been the nurturers of the Indian economy were dragged back by these foreign brands and multinational companies.
This pandemic has given a lesson from an age-old saying, "Fairweather friends are no friends. Friends in need are friends in deed." Undoubtedly, in these unprecedented times, only the local shops and markets have been proven life savior for all of us. The local shopkeepers, chemists, vegetable vendors, fruit sellers, general store shopkeepers have been there for us in such hard times. They have stood for us and have come out in such a dangerous situation to feed us and make us feel safe.
In such times no one is looking for luxurious restaurants, brand houses, or supermarkets. Everybody is relying on the local markets that are completing the needs of people. Thus, this is the time to realize who our friend is and whom we need to support. In such tough conditions, the indigenous companies stood up to volunteer to provide food to the stranded, to provide shelter to the homeless, and to donate to the needy. Thus, it's our time to promote the local market for they have stood us with us when no foreign company with greater profits did. These local people helped us with whatever they had and made us survive this battle. Therefore, it's time when Indians need to go vocal for local and promote the practice of self-reliance.
Read More Latest Bollywood Movie Reviews & News
Read More Sports News, Cricket News
Read More Wonderful Articles on Life, Health and more
Read More Latest Mobile, Laptop News & Review