Article
Mob Lynching As Nefarious Activity | Steps To Control Mob Lynching | Reasons | The National TV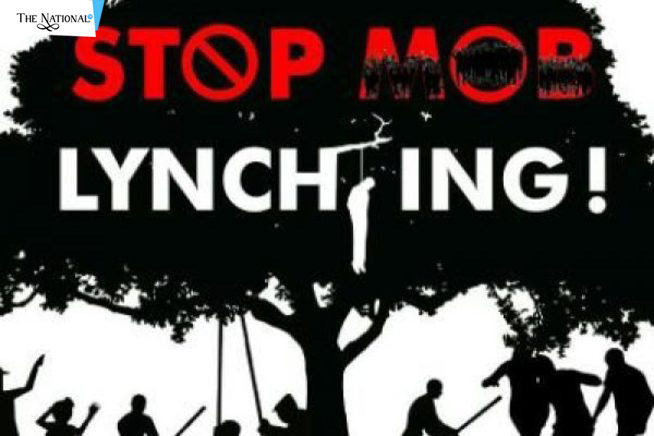 Introduction:
When a large crowd of people administers justice without trial because the mob believed that the person has committed a crime is termed as mob lynching. Religion, kidnapping is the main reason behind the mob violence in India as a result of which a total of 28 Indians have been killed and 124 injured by cow vigilante since 2010. History The origin of the word lynch is not well known but it is originated during the American Revolution. It came from Lynch Law, which means punishment without trial. Charles Lynch (1736 - 1796) and William Lynch from Virginia in 1780s coined the phrase and used the term lynching in 1782. Fehmic courts of medieval Germany, Halifax gibbet law and Cowper justice imposed some punishments that involved lynching and followed the concept of trial after execution Vigilante justice was also followed where informally organized groups replace legal procedure by administering justice without trial. The act of genocide, mass racial violence in the United States and the killing of civil rights workers & advocates were common during the 1950s and 1960s.
Reasons:
1. Rise of cow vigilante violence means the mob attacks group of cow eaters. In India, there are strict laws against the slaughter of cows. In one of the campaigns, the PM of India in 2014 emphasized the need to make sure India's cows are protected and various other steps are taken by central & state govt to protect cows such as cattle slaughter is banned in most states of India. It is stated by Reuters Report, a total of 63 cow vigilante violence had occurred in India between 2010;& mid-2017 in which 28 Indians were killed and 124 injured.
2. Fake news Whatsapp messaging service is one of the reasons as a result of which more than a dozen people have been killed across the country. The perpetrators are those who belong to rural areas or the one using smartphones for the first time. Group of people attacks & beat innocent one to death because they were inflamed by the fake social media messages related to child trafficking rings or organ harvesters. While the govt is controlling against fake news. India's ministry of electronic & Information Technology called on social media companies to take immediate action to end the menace of fake news but it's difficult to control as there are more than 10 million inexperienced smartphone users in India sending billions of messages a day on WhatsApp.
3. The silence of political class one of the reasons behind lynching is governmental depravity and a demoralized state of society. The silence of the society and people in power, when mobs thirsted for human blood has made them complicit in the despicable acts.
4. No separate Act There was no separate act or provision to deal with mob lynching. But in the recent judgment, the Supreme court bench observed that individual citizens can't take the law into their hands. The bench directed Parliament to draft new legislation to effectively deal with incidents of mob lynching and it also directed the police to register an FIR under Sec 153 A of IPC & other such provisions of law against those who indulge in such activities
5. Rumor of child-lifters After mob lynching by cow vigilante, it is rumor of child lifting that are fueling mob violence across the country. Mob suspects individuals or groups of individuals to be child-lifters and ruthlessly beat them. Such an incident happened in sambhal where the person thrashed to death, four other incidents came to light in shame, Bulandshahar and Hapur and the crime related to mob violence is increasing.
6. Organized hate campaign, losing faith in law are some other reasons behind the increasing rate of crime related to mob violence. Kherlanji Massacre 2006 One of the first cases of lynching in 2006 in which family belonging to scheduled caste were murdered by members of politically dominant kunai caste. A group of 50 villagers were engaged in such activities & lynched four members of the family because these women filed a police complaint against 15 villagers. 2015 Dadri mob lynching In this case group of villagers and members of BJP killed MD Akhlaq for suspicion of stealing & slaughtering a cow & calf. They attacked Akhlaq's house with sticks, bricks, and knives but Indian court found prima facie evidence of meat that may have been either mutton or beef. The govt inquiry concluded that he was not storing beef for consumption. 2017 Awar mob lynching In this case 200 cows vigilantes killed Pehlu Khan, a dairy farmer when he was carrying cows & calves in the hope to increase milk production for the upcoming holy month of Ramadan. According to media reports, more than 20 cases of mob lynching have been reported in the last three years and it can be concluded that how crime related to mob lynching is increasing in India.
Steps to control mob lynching:
Mob lynching is a horrendous act of mobocracy and the people are taking the law into their hand which can't be permitted in a country like India. So the Supreme Court bench directed Parliament to draft new legislation to effectively deal with incidents of mob lynching. The court directed state govt to designate a senior police officer in each district to prevent such incidents and to take measures as required. Every police officer should disperse the mob which has a tendency to cause violence in the disguise of vigilantism. FIR shall be registered against those who are disseminating fake messages. The trial court must award a maximum sentence upon conviction of the accused person. The victim must be awarded compensation & should be given justice to them by designated Court/ fast track courts. MASUKA also helps to minimize the crime related to mob lynching. Compensation must be given to the people who died because of mob lynching.
Conclusion:
In India, a group of people is taking the law into their own hands and administer justice which needs to be stopped to save democracy fabric of India. In a country like India where people were known for their kindness, compassion towards human beings, trees, and other creatures but with the passage of time, there are groups of people thirsted for human blood. Most of the time victims are among minorities and Muslims. The mob isn't ready to understand anything, they just administer justice without trial. The existing law isn't able to minimize the cases related to mob lynching. So the country needs to have proper laws to deal with it and to take strict action against them.
Under Article 21 of the Indian Constitution, Right to life and personal liberty is provided to every citizen of the country but their rights are being infringed by the mob and many among them aren't getting remedies. There is no definition of mob lynching in Crpc and IPC and also the youngsters involved in such activities have no fear of law and they are between the age of 25 to 45 years and using modern technology to spread & viral the videos which need to be stopped. When you don't have jobs, you get mobs. So the Government should also focus on providing employment to youth as existing law is not making any difference.
Read More Latest Bollywood Movie Reviews & News
Read More Sports News, Cricket News
Read More Wonderful Articles on Life, Health and more
Read More Latest Mobile, Laptop News & Review