Article
Appointment of Judges in Supreme Court | Fundamental Rights | The National TV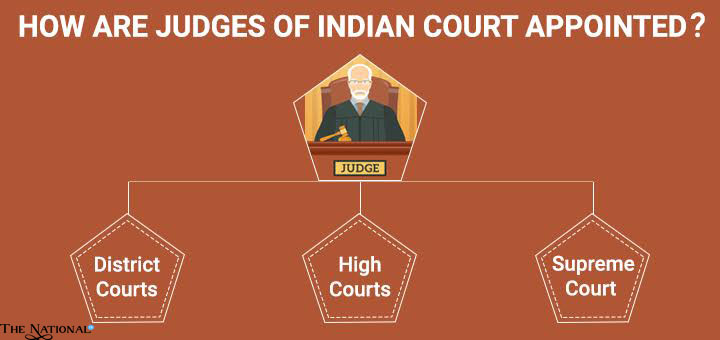 Introduction
The Judiciary was to be an arm of the social revolution upholding the equality that Indians longed for. Our Indian system has three-tier i.e Legislative which makes Law, the executive implements law & Judiciary provides justice to the people & ensures Law is being followed. There is a hierarchy in our Judiciary system to be followed by i.e Supreme Court, High Court, District Court.
The Supreme Court only deals with the infringement of fundamental rights and It is the Supreme Authority of the country. There are 35 Judges in theSupreme Court including Chief Justice of India. Appointment & Transfer of Judges Before 99th Amendment of Constitution (2014) - President appointments CJI of India and Judges of Supreme Court S.P Gupta v. Union of India AIR 1982 SC 149 (Judges Transfer Case) Executives have the Ultimate power to appoint judges of the Supreme Court & Chief Justice of India. This was followed so that the Judiciary can be protected from dominance and subordination but interdependence if Judiciary was affected. Supreme Court Advocates on Record Association v. Union of India (1993) 4SCC441 (Judge Transfer Case II ) S.P Gupta case was overruled & court laid down detailed guidelines for appointment & transfer of Judges.
It was held that the greatest significance in appointment & transfer of Judges was given to the Cheif Justice of India & two senior-most judges. Re Presidential Reference AIR 1999 SCC 1 It was held that CJI should consult the collegium of four senior-most Judges of the Supreme Court. If any two among was against it then CJI won't recommend the name to the government. After the 99th amendment of the constitution (2014) Every Judge of the Supreme Court shall be appointed by President by warrant under his hand and seal on the recommendation of the NJAC National Judicial Appointment Commission(NJAC) It is the commission for recommending appointments & transfers of Judges. It is constituting - Chief Justice of India as Chairperson, Two senior Judges of Supreme Court Union law minister Other two eminent person i.e Prime Minister & leader of opposition Party Proceeding of NJAC won't be questioned or its decision can't be invalidated on the ground of vacancies or defect in the constitution of the commission. Supreme Court Advocates on Record Association v. Union of India (2015) AIR SCW 5457 It was held that the 99th amendment Act, 2014, and NJAC is unconstitutional and declared void. Therefore, the Collegium System of appointment & transfer was again restored and Independence of Judiciary was also restored.
Read More Latest Bollywood Movie Reviews & News
Read More Sports News, Cricket News
Read More Wonderful Articles on Life, Health and more
Read More Latest Mobile, Laptop News & Review