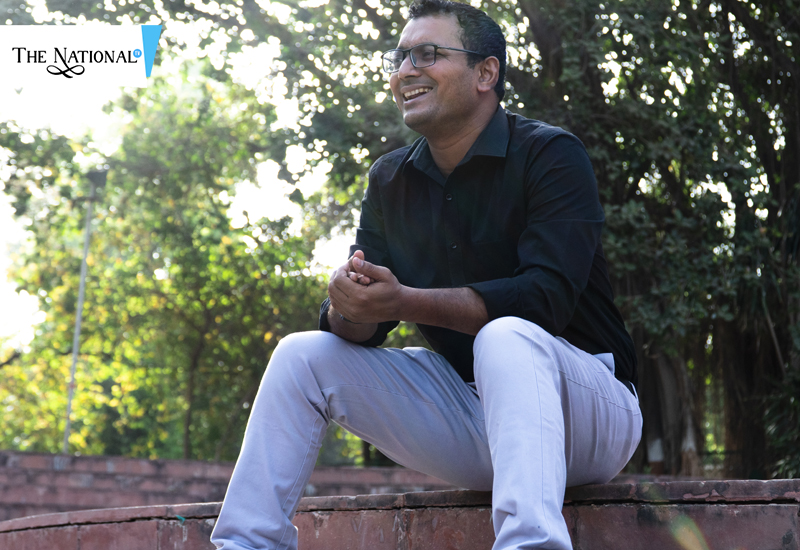 "A label locks me into a definition,
that people use to control me.
A vision graces me with an idea,
that serves to release me."
This quote is representative of the ever-lasting spirit of a distinguished visionary entrepreneur 'Vijay Kantharia'. He dared to challenge one of the biggest problems of the modern time i.e. 'Digital Screen Addiction' by launching a foolproof solution in the form of 'Cerebroz EduTree'.
'Cerebroz EduTree' is a befitting reply in the form of a pioneering educational digital solution that does replace the entire unproductive ad content with productive educational content. This start-up is indeed a candid endeavor to persuade people to adopt a solution-oriented approach.
Meet Vijay Kantharia, a man with a relentless pursuit of turning his dreams into reality combined with his sharp business acumen and outstanding educational experience as a researcher.
"We shall change all that...
because it is possible to change the world,
if one is determined enough,
and if one sees with sufficient clarity,
just what has to be changed."
Visit https://www.cerebroz.com/to know more about 'Cerebroz EduTree'
App Download Link: https://play.google.com/store/apps/details?id=org.cerebroz.edutree.android&hl=en
https://www.facebook.com/CerebrozEdutree/
https://www.youtube.com/channel/UCVYcqd19FSVwBVuR4Yp0ooA
Vijay Kantharia Interview with Hiranshi Mehta
In this interview with Hiranshi Mehta, Vijay Kantharia throws light on an interesting journey about how 'Cerebroz EduTree' became successful in transforming the entire perspective of perceiving the 'The Break Time Aired On the Idiot Box'
Can you elaborate on the journey of 'Cerebroz Edutree' and what problem you did intend to address?
I was an underprivileged kid who lost his father at the age of 5. My mom toiled hard to ensure that I receive the best possible education. With the support of a few Samaritans, my dream to be a researcher turned into a reality. I have served as a researcher in leading research institutes of India like Indian Institute of Sciences (IISc), Bangalore and IGIB, New Delhi prior to joining Stowers Institute of Medical Research, USA.
Life was going great until I realized that my screen time, be it a TV screen or Mobile screen, was massive. I soon realized that it's not just me but the whole world is dealing with the same phenomenon of being addicted to the digital screen. What we come across on TV/Mobile screen, makes a powerful impact on our lives in terms of learning. For instance, despite the fact that we do not pay much attention to advertisements and indulge in channel-hopping during the advertisement time slots, we tend to remember every advertisement. You might have observed that little children unconsciously sing ads as it appears on TV. Ironically, they do not put efforts in memorizing it but that happens naturally. Keeping the same thing in mind, we thought of a great idea. We thought of empowering people with positive learning by replacing TV ads with education so that they no more get bombarded with the unproductive advertisements and brand messages. To validate the Idea I travelled widely across the US, Europe and India to discuss the problem of screen addiction and the solution that we plan to develop. Once I got an inkling of the severity of the problem of screen-addiction, I decided that solving it is indeed the dire need of an hour.
Once the idea was conceived, I did decide to quit my research career to come back to India to launch Cerebroz EduTree. Initially, we developed the Prototype by bootstrapping for a couple of years. The demonstration of our prototype generated a lot of buzz and we fetched Pre-orders. This reinforced our belief in the issue that we were striving to solve. We sold over 1000 products in merely a few months of 2019. Our educational product is now available on the E-commerce site.
We take immense pride in being the world's first and only Technology Firm solving this global issue. Parents are concerned about their children regarding over usage of the screen. There exist a plethora of Internet addictions in the form of games like Blue whale games, PUBG and many more. The same has resulted in the world-wide mushrooming growth of Counseling centers meant to curb screen addictions. After experiencing both the eras, one with the minimal technology and the one where the technology prevails, we believe that it is our moral responsibility to save the world from plummeting into total chaos. The responsibility is shaped into the form of EduTree that aims to solve the new-age problem of screen addiction most innovatively and effectively.
What is the entire concept of this brilliant educational device?
The entire concept of this innovative educational device revolves around an aim to channelize the break-time towards productivity. The set-up procedure of the educational device offered by us is extremely effortless. It just needs to get connected with the Set Top Box or TV via an HDMI Cable. Post this, a screen will pop-up wherein the user will require sharing a few pieces of information like the contact details, the preferred content category meant to replace ads, etc. The moment the ad content will end, the show will automatically resume.
Moreover, the variety offered by the educational device content is quite interesting and wide-ranging including academic education, social knowledge, general knowledge and many more. Besides, EduTree also offers a weekly test facility that enables Parents to track activities of their children. The start-up has recently unveiled an e-library that allows avid readers with an opportunity to read e-books and novels.
What does success look like for Cerebroz EduTree?
So far, we have received a phenomenal response from the people. Merely by explaining the product concept, we were able to receive the pre-orders. In the parents' opinion, EduTree is no less than a blessing for their kids and students find the EduTainment uber engaging. If our prospective clients happen to stumble upon the testimonials on our Youtube channels, they will be able to figure out by themselves that our ultimate success lies in our customers' happiness and satisfaction. Moreover, our startup has also been recognized by the Central Government. The same makes us eligible to claim 7 years of tax exemption benefits.
Are you satisfied with the pace of the growth of your start-up or it could have had been better in your opinion?
We often wonder what if the innovation would have had been widely embraced by the people of our home country i.e. India. The problem lies on multitude fronts, right from convincing people about the existence of such ground-breaking technology to dealing with their certain kind of reluctance. We just hope that gradually but surely, people will continue to be more receptive to our innovation.
What obstacles have been faced by you as a founder of 'Cerebroz Edutree' and how did you overcome them?
Obstacles are part and parcel of the journey of every start-up. My first challenge was to convince the family to launch my start-up by bidding adieu to the comfortable life of a researcher in the US. Somehow my sister resonated with the problem as she herself is a mother. She did not merely help me in convincing my mother but also invested in the startup.
Another obstacle for me was to build a great team. However, I sailed through this challenge as well by building a core team of 6 experts belonging to varied domains. They included Software, Hardware, Mechanical, Creative, Marketing and Sales. Since then our team is constantly engaged in the pursuit of chasing our perpetual mission to uproot this severe issue of digital addiction. When I was struggling with the finances, a Dubai-based firm HNI saw potential in our concept and invested in us. This investment helped us to further refine our product. In simple words, every day brings us a new challenge and we are ready to embrace the same with our undying attitude and zeal.
What is the current runway, and what are the future plans?
We are planning to expand Cerebroz EduTree across India by the year 2020. We aim to keep our focus intact on the current innovation and intend to penetrate further into the relevant market. Post next year, we plan to launch the product in the Middle East, North African market, the US and European market.
Moreover, we also believe in being in-sync with the latest technological trends. The gamut of our latest breakthrough now encompasses other screen formats as well, including Tablet and Mobile. The Android application designed by us is competent in restricting the access to other applications based on the educational performance in Cerebroz EduTree application.
For instance, parents face a tough time while dissuading their children to use mobile phones or tablets to play games. In this scenario, Cerebroz EduTree application locks the application with Cerrebroz EduTree applock system. The password may be customized based on the child's performance in the application, for example, how many educational videos a child has viewed or what is his/her level of performance in those videos. There are also available other criteria related to the specifications on the app and parents customize them as per their understanding. To gain better clarity of this wonderful app, I would recommend downloading it from the Google Play Store.
Would you like to shed some light on the financial aspects including investment and profit?
We have received our initial investment of 4.7 crore INR from a Dubai based HNI. We have sold more than 1000 product so far and we have generated a revenue of 1 crore so far.
As a founder, what are your goals for this year and next 5 years?
As a founder, I aim to turn my startup into a unicorn by December 2020. Our team would like Cerebroz EduTree to be one of the billion-dollar startups that is born in India. In upcoming 3-5 years, we envision EduTree to be embraced by every household across the globe impacting the lives of countless individuals in an utmost positive and creative manner.
We'd love to hear your thoughts.
Find us on Twitter: https://twitter.com/TheNationalTV
Facebook: https://facebook.com/TheNationalTVofficial/
Instagram: https://www.instagram.com/thenationaltvglobal/
Linkedin: https://www.linkedin.com/company/thenationaltv/
or write into info@thenationaltv.com