Sports
I knew that Ganguly could become the BCCI President, even the Chief Minister of West Bengal: Virender Sehwag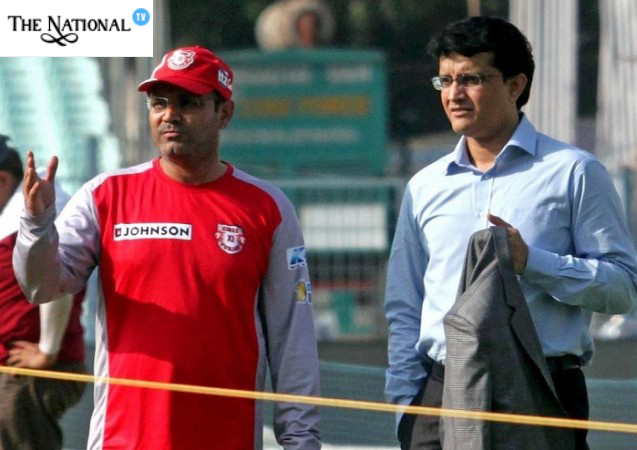 Ever since it was announced that former Indian skipper Sourav Ganguly would become the BCCI chief, rumors of 'Dada' potentially donning the hat of the West Bengal Chief Minister started doing rounds. Now, former teammate, Virender Sehwag has added fuel to the fire by saying that, as far back as in 2007, he knew that Ganguly could be the BCCI President and even the Chief Minister of West Bengal one day. In an article he recently penned, Virender Sehwag even opened up about how the former Indian captain and the current BCCI President played a key role behind him shifting to the top order.
One of Ganguly's most trusted lieutenants during his stint as a captain, the Nawab of Najafgarh said, "Dada had a big role to play in my shift to the top of the order. It all started with him asking me to open. My reaction was simple: "Why aren't you opening, even you open, even Sachin opens?" The Sehwag goes on to say how Ganguly wanted him in his team and the opening slot was the only slot vacant. He also mentions how Ganguly would give potential match-winners a long rope and back them to the point that they would be able to play fearless cricket. "It was a very fair treatment. It's this clarity that makes a player trust his captain. That gave me a lot of confidence.
I thought, Dada is backing me so much, so let me try. Whatever I am today, it is because of him", Sehwag fondly recounts. Sehwag played a lot of cricket under Ganguly's captaincy and during his time under the Bengal Tiger, he recalls how the skipper gave a player the kind of confidence that makes him forget that he has actually flopped in the last eight to 10 innings. "By some strange miracle, the player would think that he was actually performing well. And with that confidence, he would give his 100 percent all the time and win matches. That I think was Dada's biggest strength as a leader", Sehwag wrote. In his article, the explosive opener also sheds light on how Ganguly used to be in the dressing room.
"I have seen a lot of captains but Dada was a rare leader with whom you can say anything or joke about anything. There was a great comfort level between him and the players he backed and over a period of time, the bond only grew stronger." "When I was a young player, Dada would speak to me, we would have dinner together. As BCCI president, he will do the same, I expect he will take everyone along with him. I have no doubt that he would play a big role in turning the clock back to the time when BCCI had a big say in ICC" opines an optimistic Sehwag.
Read More Latest Bollywood Movie Reviews & News
Read More Sports News, Cricket News
Read More Wonderful Articles on Life, Health and more
Read More Latest Mobile, Laptop News & Review