Press Releases
Masterclass at IIHMR University Highlights Digital Marketing Need For The Healthcare Marketing Ecosystem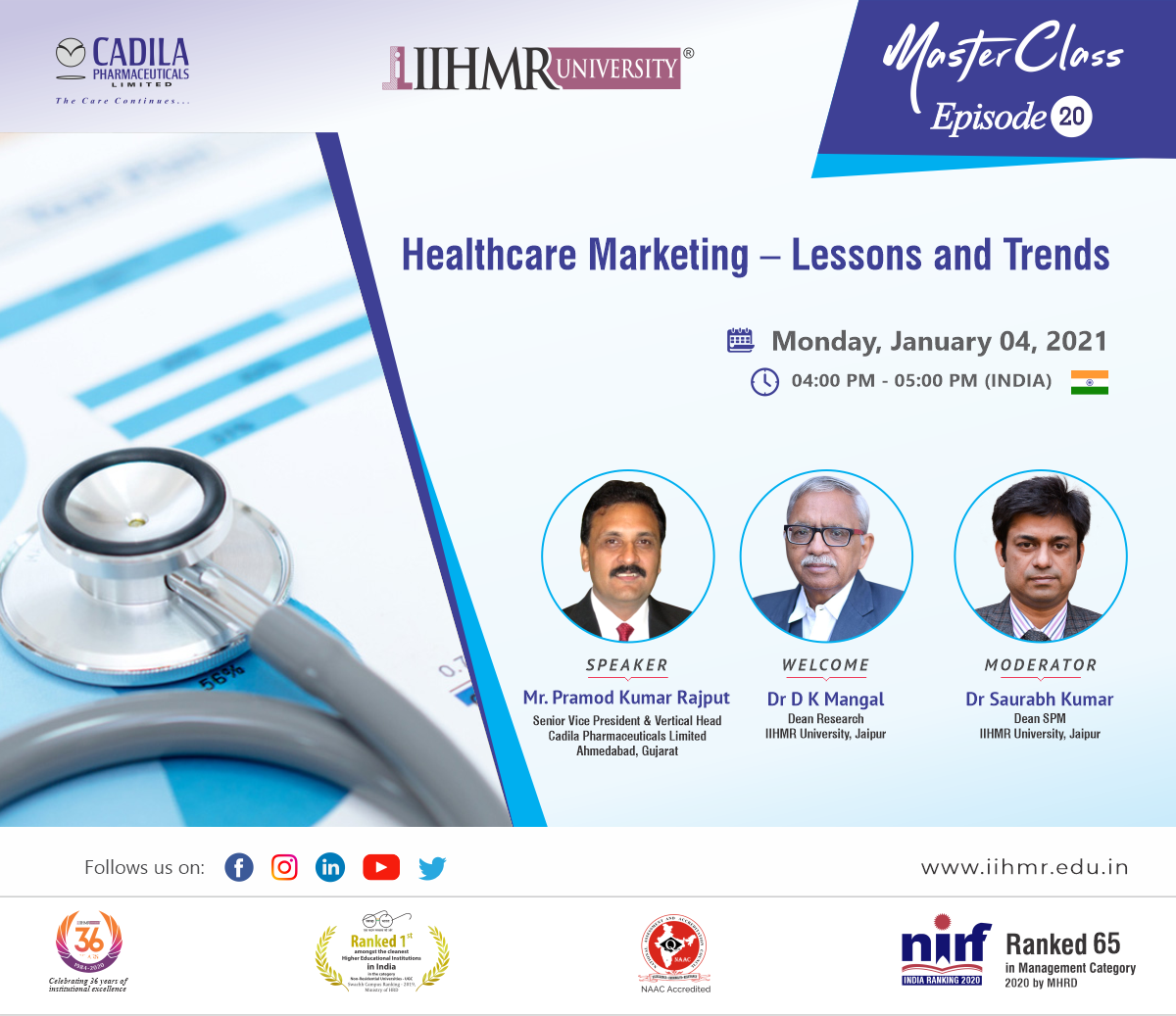 Industry Expert from Cadila Pharmaceuticals shares insights during Masterclass on "Healthcare Marketing – Lessons and Trends"
Marking the need for Digital Education and knowledge sharing during COVID-19, IIHMR University, a leading University in Healthcare and Research, in collaboration with Cadila Pharmaceuticals, offered a digital Masterclass on "Healthcare Marketing – Lessons and Trends." The Masterclass was conducted on 4th January 2020, where they foregrounded for Healthy India. The Masterclass is an initiative by the IIHMR University to connect their students with the health care experts to widen their knowledge and get equated with the professionals of different Healthcare universities worldwide.
The Masterclass began by motivating the participants by saying, "ChustRaho, Mast RahoAurDurustRaho" covered industry-relevant concepts specially curated for the students. Dr. D.K. Mangal, Dean Research, IIHMR University, welcomed the speakers and opened the session for discussion.
Dr. Saurabh Kumar, Dean SPM, IIHMR University, Jaipur, while moderating the session, said, "Our agenda for the Healthcare Marketing Masterclass involved creating and communicating messages for the mass on promoting and protecting the healthy atmosphere. Our motive of this Masterclass was to deliver health information and interventions using customer-focused and science-oriented strategies to protect and promote the health of diverse populations."
Mr. Pramod Kumar Rajput, Senior Vice President & Vertical Head, Cadila Pharmaceuticals Ltd, while emphasizing the impact of the digital and technological ecosystem, said, "The New Generation is an opportunity to learn to start new things. He then told about his journey where he left the college without finishing his graduation. With his optimistic mindset and determination to achieve his goals, he has achieved a level where he always wanted to be. By explaining the importance of Marketing, he further explained marketing, "that it is a communicating the value of your product to your customers. He believed that Marketing should be digital and not traditional, gone are the times we studied traditional marketing."He believed that one's time is wasted if they don't accept challenges with the right efforts.
For the New Normal Motivation, Mr. Pramod Kumar further said, "Achievers Never expose themselves, but their achievements do. Do or Die is old fashioned, but now it is Do it Before You Die."
Cadila Pharmaceuticals Ltd. is one of the largest privately-held pharmaceutical companies in India. Over the past six decades, they have been developing and manufacturing affordable medicines for patients worldwide. They always focused on discovering, developing, and successfully market pharmaceutical products to prevent, diagnose, alleviate, and cure diseases. They work to ensure customer satisfaction and achieve leadership in chosen markets, products, and services worldwide through excellence in technology, based on world-class research and development.
About IIHMR:
IIHMR University is a specialized Research University in management research, postgraduate education and training in the health sector. It aims to generate new knowledge and technologies to provide evidence and inputs for developing effective policies and health interventions and strategies. Over the past three and half decades, the IIHMR University is engaged in research, education and capacity building in the core areas of Public Health, Health and Hospital Management, Pharmaceutical Management, Health Economics and Finance, Population and Reproductive Health, Development Management, Institutional Networking and capacity building. The Executive Education Division of the IIHMR University has more than three decades of experience in designing and delivering high quality need-based open enrolment Management Development Programmes (MDPs) and Customized Training Programmes (CTPs). The division has served the training and executive development needs of leading multinational corporations, healthcare organizations, international non-governmental agencies, and international agencies like WHO, UNDP, and UNICEF, to name a few. The University's executive education engages in designing and developing innovative need-based programmes to cater to the executive development needs in a responsive, responsible and flexible manner.
The University has multiple collaborations with organizations such as the Johns Hopkins University, Bloomberg School of Public Health, Curtin University, Perth, Australia, the University of Chester, U.K., American Society For Quality, jhpiego and SEARCH.
Read More Latest Bollywood Movie Reviews & News
Read More Sports News, Cricket News
Read More Wonderful Articles on Life, Health and more
Read More Latest Mobile, Laptop News & Review