Politics
The women in Sudan's quest for democracy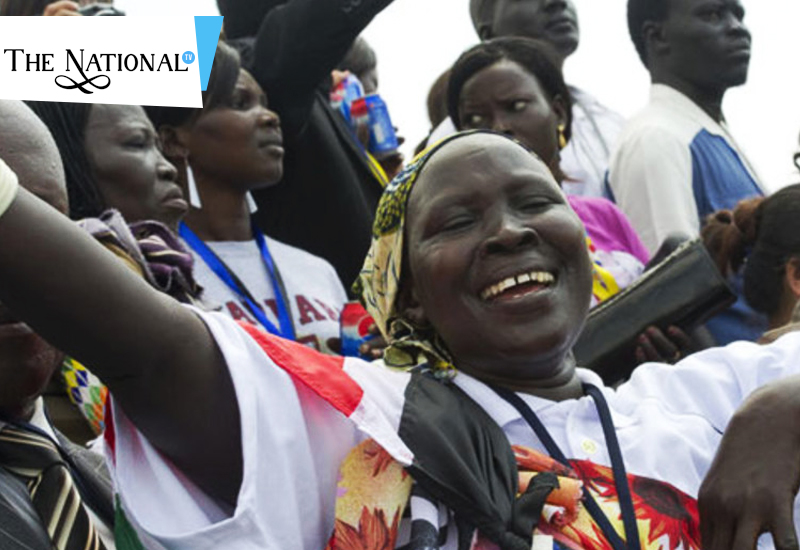 On April 10, the photograph of 22-year-old engineering student Alaa Salah chanting in front of a crowd of protesters went viral on the internet, capturing global attention and giving international platform to Sudan's ongoing protests.
She has been branded as an "icon" of the Sudanese revolution,giving a new insight towards the role played by Sudanese women in the revolution.
"They imprisoned us in the name of religion, burned us and killed us in the name of religion". "But Islam is innocent. Islam tells us to stand, speak up and fight against these tyrants … the bullet doesn't kill. What kills is silence of the people. "Salah recited, quoting a poem of Sudanese poet Azhari Mohamed Ali.
The recitation is a symbol of a long tradition of Sudanese women performing and chanting poems to honour the dead, praising warriors and showing discourse towards merciless leaders.
The history of Sudan has been filled with iconic female figures: Dr Khalida Zahir, who was Sudan's first woman doctor arrested by the British in 1946 for opposing the colonial rule, Fatima Ibrahim who was a prominent leader of the Sudanese Women's Union and fought for women's rights.
Among Sudan's iconic female poets are Meheira bint Aboud from Nubia,the anti-colonial icon Hawa al-Tagtaga from Kordofan, who was jailed for singing nationalist songs at the Labour Theatre in Atbara, on the eve of Sudan's independence.Thus ,evidently the women poets have historically played significant social and political roles as oral historians and orators in encouraging dissent. In the Sudan's quest for ending the 30 year old by Omar al Bashir,they have been actively engaged in openly criticising the regime calling for revolution.
In 1992, Omar al-Bashir's government passed a series of "public order" laws under implementation of "Islamic law" in many parts of Sudan.
The laws criminalised women for wearing trousers, leaving hair uncovered, singing "immoral" songs at public engagements and going out with male friends. The laws were systematically made to target the working-class women and were often used to harass and arrest women journalists, musicians and dissidents, who criticised the regime.Evidently,the government was well aware of the impact and crucial role of these women as being in forefront of anti regime protests and that's why wanted to supress the dissent through these laws.
President Omar al-Bashir was forced to step down from power on 11 April after 30 years through revolutionary protests and demonstrations all over the country.
He has been replaced by a transitional military council but demonstrates have been continuing their mass protests outside the military HQ.It would be interesting to see the role of the revolutionary women of Sudan in forming the new government in Sudan and representation of women in upcoming civilian rule.
Read More Latest Bollywood Movie Reviews & News
Read More Sports News, Cricket News
Read More Wonderful Articles on Life, Health and more
Read More Latest Mobile, Laptop News & Review
-----------------------------------------------------
Today's Trending Videos
Join Us on Youtube: Subscribe Our Channel Now