News
Freelancer Journalist Along With Two Other Were Arrested for Sharing Information with Chinese Intelligence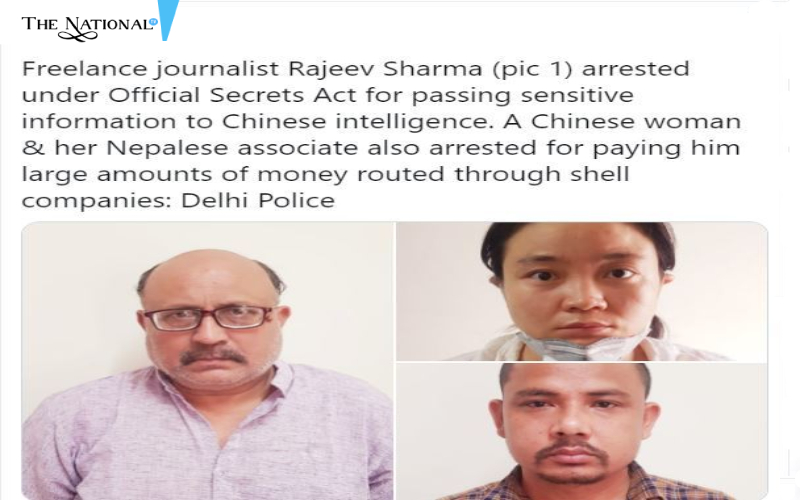 India is always considered as a nation where people of different caste, religion, race, sex lives peacefully, and with unity. Any nation is known because of its people. On one side army men are ready to die happily for the Countrymen which is an honor of pride for us and on the other side journalist like Rajeev Sharma is a stigma.
The Journalist Rajeev Sharma was sharing sensitive information with Chinese intelligence and was also taking money from them. The special cell of Delhi caught him red-handed as he used to share information to global times and has taken 40 lakhs for the same. It was observed by the cell that money has been transferred by foreign intelligence in the account of Rajeev Sharma. They further said that he used to share information with Michael and George, the resident of Kunming, China which is a transportation hub of China's southern Yunnan province.
He used to share information regarding Indian defense security, matters of army forces, and other issues such as - Indian deployment on Bhutan - Sikkim - Chinatri - junction, India - China boundary issues, etc. Two other members apart from the journalist have been arrested. Qui shi (a Chinese woman) and her Nepali associate Sher Singh. It was observed by the Special cell that funds are transferred by foreign intelligence in two accounts- Rajeev Sharma and to company Mz pharmacy and Mz Malls.
Jhang chang and his wife Chang-li-lia had registered a company i.e. Mz Pharmacy and Mz Malls with their fake names Suraj and Usha. They live in China but their business was operated from Mahipalpur and the directors of the company were those two arrested persons - Qin Shi and Sher Singh. The aforementioned people were arrested under the official secret act,1923 for sharing secret information and helping enemy state against India.
Read More Latest Bollywood Movie Reviews & News
Read More Sports News, Cricket News
Read More Wonderful Articles on Life, Health and more
Read More Latest Mobile, Laptop News & Review