Interesting
Malana-Village Practicing Social Distancing from Ages | Himachal Pradesh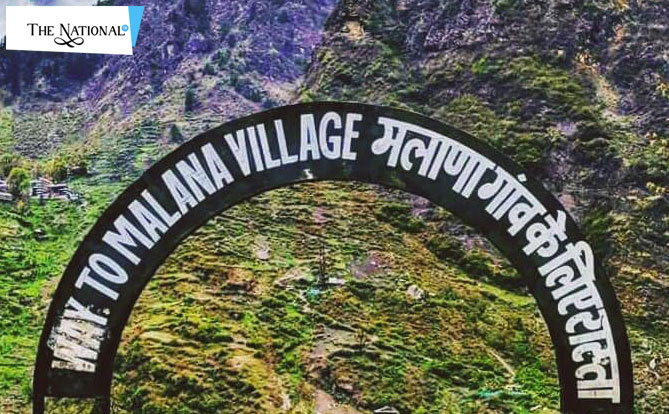 Malana, a small village in the abode of hills is interestingly known world-wide for plenty of reasons. Malana is located in the North-East region of district Kullu in Himachal Pradesh. This place has its own beauty which makes it more attractive but above that, it's the secrecies which make it even more special. This village has chosen to stay in solitude and maintain a distance from the chaos of city life. This land shadowed by the peaks of Chandrakhani and Deotibba has been a center of tourists because of its hashish. This village has been known worldwide because of its charas i.e. hashish. Even today, its hashish popularly known as Malana Cream is sold at the costliest rates in the world. But there's more to this village.
This village has chosen to be isolated from city life and other cultures of the world. This is a "touch-me-not" village, where villagers are quite friendly with the outsiders and tourists but strongly against the act of touching them or their belongings. They have been strictly practicing social distancing for ages. This practice is because of their belief that they are descendants of Alexander-The Great and their ritual of purity and pollution governs their faith in it. It is a saying that some soldiers from Alexander's army rested here after defeating Porus and therefore, they are now the descendants of Alexander.
The Malanese believe that they are superior to all races in the world and therefore the Non-Malanese are inferior to them and are untouchables. Therefore, it is strictly prohibited for outsiders to touch them, their walls, or their houses. The outsiders are strictly advised to follow the rules of the village and if someone disobeys the rule of social distancing than one has to pay a fine for it which will further lead to the sacrificial ceremony of a lamb in order to purify that object again which has been impure by their touch. Also, the outsiders are not allowed to enter their temples, the shopkeepers don't take money from hand. They ask the buyer to keep the money on the counter and leave. Once they leave the money on the counter then they collect it.
Also, if the villagers provide them food in their utensils then the utensils also have to go under their act of purity. Their language, Kanashi is also a secret. Malanese speaks Kanashi which is their own cultured language and outsiders are not allowed to speak it. It is believed that Kanashi was gifted to them from Jamadagni, saint Parshuram's father. After this, this has become their sacred language and no one is allowed to speak it. Also, the outsiders are not allowed to stay in the village after sunset. They are advised to leave the village and come only when the sun shines in. This is seen as a practice to protect their culture and tradition. But, above that, it is strongly believed by them that they are the superiors of superiors and will become impure by the touch thus social distancing is going on from then.
Another interesting factor is that when no one in the country has talked about the extension of lockdown, Malana has already declared it. Malana has declared its lockdown till August and has prohibited any entry to the village. This is because of its own democratic structure. Malana is one of the oldest democracies of the world and it is believed that till today justice is being served according to their laws and one has to follow their rules and regulations. And it is evident, with their lockdown extension announcement.
They have their religious beliefs and their faith in their Devta, Jamblu Rishi is inexplicable. It is believed that whatever decision is taken in the village, it is on the orders of Jamblu Rishi. The village practices a fully functional parliamentary system of its own and brings out its own verdicts. It's said that once a sage from Puranas inhabited the village and laid the foundation of democracy which still runs with the recent example of lockdown declaration. The voting pattern of their self structured parliamentary is also according to Jamblu Devta. The whole village votes for a person chosen by their deity and this is known to them through their spokesperson called 'Gur'. It is believed that either Jamblu devta enters into the body of Gur or he comes in his dreams and tells the name.
Villagers are quite friendly and happy with their life but they strictly oppose any interference in their village and its matters. Even police intervention is not allowed. However, if someone chooses to seek police help then s/he has to pay fine first and then only can seek help. A few years back huge fire broke in at Malana but it allowed no intervention of outsiders and their help. Almost whole of Malana was trapped in but it was they who handled it and didn't allow any outsider to help. It is particularly them who reach up to heights but don't allow any non-Malanese touch. However, they welcome tourists and others to visit their village with their rules in mind and are quite cooperative with them.
Malana is attracted as the main hotspot worldwide due to the endless mysteries it unfolds but on top of it, it is the hashish that it produces. Back in time, it was used as a medicine that has now been used for other addictive purposes as well. It is one of the best in the world and that's what attracts the public from all across the world. Its hashish- The Malana Cream has won the title of Best Hashish twice- one in 1994 and another 1996 at High Time Magazine's Cannabis Cup. Along with this, its social distancing policy has now become a necessity for the whole of the world. The coronavirus pandemic has made people realize the importance of social distancing which was however being done by Malana for ages which makes them live a happy quality life.
Read More Latest Bollywood Movie Reviews & News
Read More Sports News, Cricket News
Read More Wonderful Articles on Life, Health and more
Read More Latest Mobile, Laptop News & Review