Interesting
Everyday is a Father'S Day | 21st June | Happy Father's Day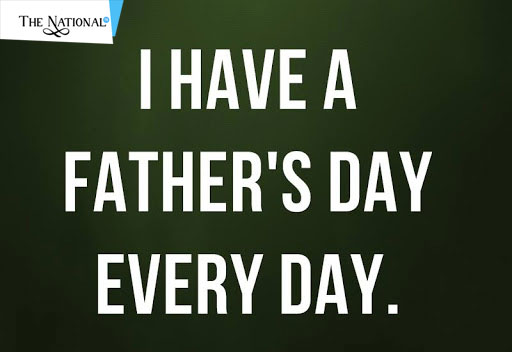 Father's day is the one day out of the year when kids give their father's a surprise gifts and present one great thing on that day, that's LOVE. Father's day is celebrated on only one day and what about the other remaining 364 days of the year? Have you ever thought of that 364 days? But father's day should be every day because fathers give and do alot to keep their kids happy and make them satisfied, they always think that, their kids should be blessed with the best things.
The one who loves us with eyes close is said to be a LOVER,
The one who loves us with open eyes is said to be a FRIEND,
The one who loves us with rolling eyes is said to be the WIFE,
AND
The one who loves us with her whole heart till her last breath is said to be the MOTHER,
BUT
The one who loves us without showing his love in his eyes is said to be the FATHER!
From the childhood mother always insists her kids that DON't goes near the river DAD will scold you, DON'T climb on the tree DAD will scold you, DON'T do mischief DAD will scold you, DON'T do this, DON'T do that DAD will beat you and after few days kids get afraid of their and due to the fear of their FATHER they slowly-slowly get attracted towards the MOTHER, they feel that their DAD is not supportive, he is too strict and not even friendly with us, but in real life, he is the only one who tries to keep his kids HAPPY at any cost. The MOTHER tells her unconditional love towards her kid, a father doesn't tell you that he loves you, he always shows his LOVE.
We can't be in this world without our fathers. They have always been the one reliable man in our lives, and they have always treated us with a stern yet loving hand. We have always looked up to them as an inspiration over the years.
Remember that just like mothers, fathers are important, too, and that they have made many sacrifices for you, which perhaps you may not even be aware of. Love them, cherish them and celebrate with them.
On this day, people usually plan an outing with their FATHER, elaborate things like taking their dads to their favorite restaurants, for instance or watching their favorite movie with them. This year, however, because of the PANDEMIC, we can celebrate FATHER's day at home.
NO matter how famous or successful we are in our life, but we should not forget that our first identity is that os someone's son or daughter. SALUTE to all dads!!! HAPPY FATHER'S DAY.
Read More Latest Bollywood Movie Reviews & News
Read More Sports News, Cricket News
Read More Wonderful Articles on Life, Health and more
Read More Latest Mobile, Laptop News & Review