Article
Legal Maxims Related to Family Law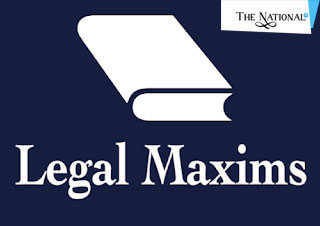 A mensa et thoro: The literal meaning of the maxim a mensa et thoro is from bed and board. It means legal separation of husband and wife which means they aren't legally obligated towards each other but their marriage has not dissolved. The main objective of this maxim is to give space to the couple so that they can live separately and not to dissolve the marriage. This maxim is substituted by Section 22 of Divorce Act, 1809 which reads as husband and wife can file a petition for judicial separation on the ground of adultery or cruelty or desertion. They can live separately for 2 years or more without dissolving their marriage.
Narasimha Reddy v. M Boosamma (1975) In this case, the two judges bench comprising SRO and Raghuvir of Andhra High Court decided that marriage would not be dissolved if the decree of Judicial Separation was passed. A vinculo matrimonii- The literal meaning of this maxim is from the bond of matrimony which means complete or absolute divorce. The parties are not bound to perform any obligation towards each other which arose from their marriage. Basically it applies to those marriages which are voidable or void ab initio i.e void from the beginning and applies in the cases of bigamy and marriages which are not permitted by law.
Usha Ratilal Dave v. Arun B. Dave (1984), in this case, the Gujarat High Court explained the difference between 'a mensa et thoro' and 'a vinculo matrimonii'. The court opined that Divorce is of two types- judicial separation and absolute divorce. Judicial Separation is a mensa et thoro where parties are not having any legal obligation but they are still having matrimonial relationships. Absolute divorce is a vinculo matrimonii where parties are not having any kind of obligation towards each other.
Read More Latest Bollywood Movie Reviews & News
Read More Sports News, Cricket News
Read More Wonderful Articles on Life, Health and more
Read More Latest Mobile, Laptop News & Review