Article
Article 12 of Constitution of India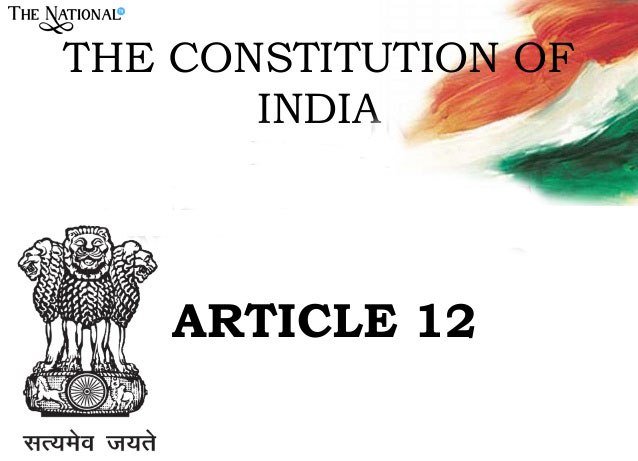 Article 12 of the Indian constitution explains the term state and which authorities fall within the ambit of State. It states that the State includes the Government, parliament of India, legislature of all states, local and other authorities which are within the territory of India or the authorities which are under the control of the government. But the definition of article 12 is applicable only to part 3 and part 4 of the Constitution i.e fundamental rights, directive principles of State policy.
The University of Madras v. Shanta Bai (1954), in this case, the court developed the principle of ejusdem generis which means of the same nature or of like nature. It was also observed that only those authorities will be considered as other authorities that perform a sovereign function. Therefore, the university doesn't come under the definition of the state. Ujjaim Bai v. State of U.P (1962), the principle of ejusdem generis was canceled in this case because the judicature observed ejusdem generis as a narrow approach. Rajasthan electricity board v. Mohanlal, in this case, it was held that all those authorities will fall under the definition of article 12 if they are created under any law and they are exercising ultimate power and are having some functions to be performed towards the public. But they are not required to perform governmental or sovereign functions.
Therefore, the Rajasthan Electricity Board is the State. Sukhdev v. Bhagat Ram (1975), in this case, the court held that security bodies like ONGC IFC and other such bodies are stated RD Shetty v. International Airport Authority (1979), in this case, the court observed that international Airport authority is formulated by the act "Airport authority Act,1971" and the central Government is also exercising its power to appoint officers of the authority as well as they are having a degree of control and controls extraordinary financial assistance. Therefore, the International Airport Authority is the State. Som Prakash v. Union of India, the court held that Bharat petroleum is the State. All those companies will be considered as a state if it is the alter ego of the government.
Ajay Hasia v. Khalid Mujib, in this case, the court introduced the determining test to analyze whether the body is acting as an instrumentality or agency of government. In this case, the court laid down six criteria i.e whether the share capital is held by the government, whether the government is providing financial assistance to the authority, Monopoly status of authority, pervasive state control, whether they are performing any government function or any other functions of public importance, whether the department of government transferred to that authority.
Read More Latest Bollywood Movie Reviews & News
Read More Sports News, Cricket News
Read More Wonderful Articles on Life, Health and more
Read More Latest Mobile, Laptop News & Review