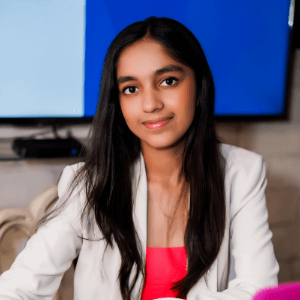 Meet Rainna Goel, a teen entrepreneur and blogger from Mumbai who is only 15 years old. Rainna began travel blogging when she was just 12 and has been a prominent travel blogger ever since. That's not all, she is also a travel book author, a clothing designer, and a philanthropist.
She blogs under her brand named 'Travels A La Carte' while she takes over searches on Instagram, Facebook, Twitter, YouTube and Google as India's youngest travel blogger.
She is also an Indian Book of Records holder for being a Young Exuberant Traveller and A Budding Author.We were intrigued to ask this young lady about her journey so far.
Travel blogging occurred to her as a hobby. She decided to put together her travel diaries and share them with the world. Having visited over 20 countries, Rainna has loved traveling since forever.
After having blogged for a year and a half, she decided to take a step further and began writing her first book which was published in December 2019; 'A Luxury Wanderer's Book'. Rainna Goel mixes her love for writing with her love for guiding others by making travel luxurious for all. "Chartered planes, luxe adventures, cutting-edge destinations, gourmet meals and top-notch possibilities will replace your someday with now", says the 15-year-old.
Adding another feather to her cap, Rainna has recently launched a non-profit clothing brand called 'Cur8ability', where she brings together easy to wear, fashionable 'adaptive clothing' designed keeping in mind the dressing needs of every disabled as well as elderly. Due to the global pandemic, India's disabled community faced a lack of caretakers, much needed to aid them in dressing; this thought in her, sparked the creation of Cur8ability. Not only does the brand help the disabled community with dressing independently through clothing solutions, it also empowers migrant tailors who lost their jobs due to the Covid-19 pandemic. Rainna aims to eradicate clothing difficulties someday through Cur8ability.
This girl simply amazes us and surely is a guidebook in herself to all young teenpreneurs. Check out her blogs: https://travelsalacarte.blog/
Buy her book: A Luxury Wanderer's Book
Follow her on Instagram: Travelsalacarte
Buy adaptive wear at Cur8ability.