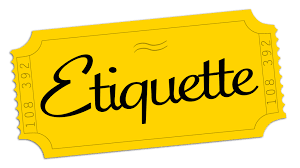 Etiquette means the rules of behavior that are simple and polite. These regulations are required to be followed so that they make somebody or something very much appropriate.
There are various types of etiquette:
Workplace etiquette.

Table manners and meal etiquette.

Professional etiquette

Communication etiquette.

Meetings etiquette.

Wedding etiquette
Other than these, one other most important type is corporate etiquette.
Corporate Etiquette refers to one that he/she must respect the organization and encourages people to maintain the decorum of the place. It also refers to behaving sensibly and appropriately at the workplace to create an everlasting impression.
It is very important to behave well at the workplace to earn respect and appreciation because only that can decide how well mannered the particular person is and how much respect he/she deserves.
Corporate etiquette can create very good impressions.
It is essential for every individual to behave in a socially acceptable way - says the corporate etiquette.
One cannot behave the same, both at the workplace and at home. So it is very important to be professional and organized at the required places and to behave according to the situations.
DO's and DONT's:
Never try adopting a casual attitude or casual attire at the workplace.
Do not bother about others' scenarios unwantedly.
Do not peep into the next person's cubicles and workstations.
Put your phone on silent or vibration mode, so that it never disturbs the others.
Do not touch or open the files - notepads - registers of the other people who work along with you, without their permission.
Do not pop chewing gums or candies in front of co-workers or managers.
Stay away from all nasty policies
Keep your workstation neat.
Never criticize and make fun of others.
Make a note of the pitch and tone.
Reach office on time
Always have notepads and pens when attending meetings and seminars.
Never wear revealing clothes.
While having lunch, do not start till the others receive theirs.
Respect your fellow workers and help them only when they require it.
Do not share confidential data with external parties and unauthorized organizations.
Make sure that you turn off the monitor when you move away for breaks.
Park your car only in the space allotted to you.
Never ever drink while at work.
Do not leave the restroom with taps on.
Do not take any office property at home.
ALSO READ: The-sake-of-food
World-class learning for you
– Start learning with Easy Shiksha today and get certified
– Authorized certificate recognized everywhere