Press Releases
Clinic Dermatech Celebrates The Power Of Womanhood | Offering Services at Flat 51% Off!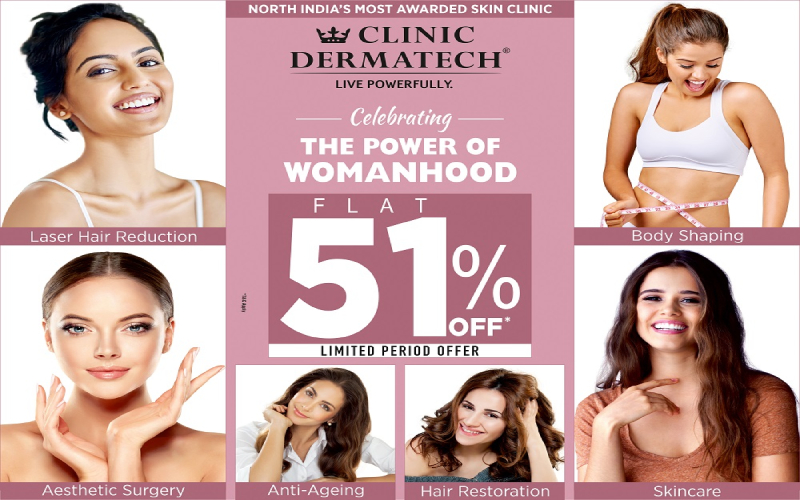 The Empowering Celebrations with the Exclusive Offer Start from 15th Feb at Clinic Dermatech!
Reports suggest that about 83% of women and 74% of men are dissatisfied with the way they look and wish to enhance their appearance!
From skin texture, unwanted body hair, unsightly bulges, and signs of ageing to facial features and hair problems - there is always something that we are willing to improve.
In a bid to celebrate the power of womanhood and enabling them to feel comfortable about the way they look and feel, Clinic Dermatech is offering a 51% discount on select services (laser hair reduction, advanced skincare treatments, body shaping treatments, and hair transplant). These treatments at Clinic Dermatech aim at altering a person's perspective towards how they perceive their appearance and judge their self-worth. The idea is to help them drop the negative body image that may put them at higher risk of certain mental health conditions, and welcome their most-desired body.
About Clinic Dermatech:
Clinic Dermatech is India's first technology-based chain of dermatology clinics, having special expertise in a wide range of innovative solutions - all undertaken by experienced doctors and trained practitioners mentored by international experts. All the treatments are personalized, based on client requirements (post-consult) and expectations. Clinic Dermatech holds more than 15 years of experience in the industry and has 20 state-of-the-art clinics, sited in 13 cities. The brand aims to empower women and men to be in control of their destinies and lead successful lives through the ability to look and feel attractive. Clinic Dermatech offers customized, hassle-free and practical solutions that revitalize the skin, reverse the signs of ageing, improve smiles, shape the body correctly, and help regain lost hair and confidence – safely and permanently.
Special Offers To Celebrate The Womanhood – 51% Off Clinic Dermatech Clinic Wide:
The Clinic Dermatech is offering a flat 51% off on all services to their clients helping them cherish and celebrate life, praising and pampering themselves in the best possible way. The offers are serviced at all Clinic Dermatech centers delivering their proven solutions from body shaping, skin, hair, feature enhancement, wrinkle reduction, hair-free body, and ever-youthful, glowing skin, to a fuller head of hair and beautiful smile – all at a celebratory offer of Flat 51% off!
To book an appointment for a Free Consultation for the latest Body shaping, Hair, and Skin Treatments, visit your nearest Clinic Dermatech Center or call us at 8905320330.
Read More Latest Bollywood Movie Reviews & News
Read More Sports News, Cricket News
Read More Wonderful Articles on Life, Health and more
Read More Latest Mobile, Laptop News & Review