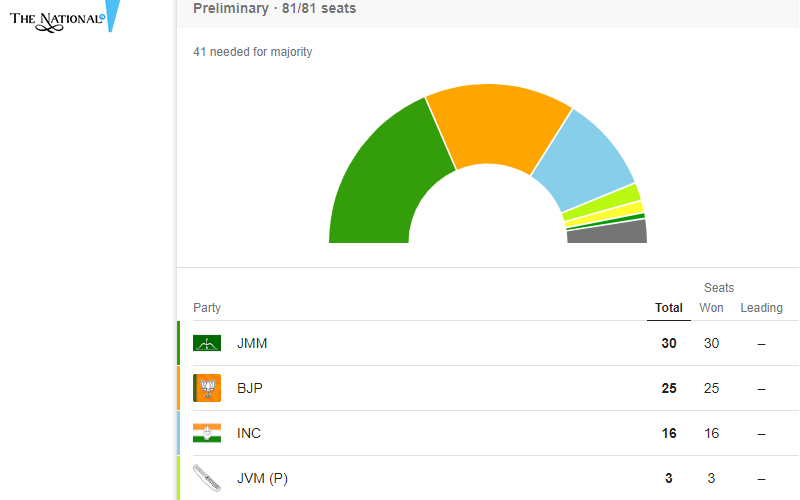 After Haryana and Maharashtra the BJP is heading towards defeat in Jharkhand. The BJP was leading in 26 seats, behind the JMM's 27. Chief Minister Raghubar Das was trailing BJP rebel Saryu Roy by nearly 6,000 votes at the Jamshedpur East seat.
Jharkhand Election result 2019
The BJP ran a national campaign referring to the Ram temple, Article 370, and even the new citizenship law, just like it had done in Maharashtra and Haryana.
In contrast, the Congress and JMM focused on local issues and the palpable disenchantment — maybe even anger — with the state government headed by Chief Minister Das and, in some places, the local MLA.
The BJP, according to sources in the party, was aware of the anger against the Chief Minister — but it had hoped to overcome it riding on a non-tribal consolidation and a palpable sentiment in favour of a stable government.
"It is my defeat, not party's. I worked for Jharkhand honestly. I welcome the verdict" said CM Raghubar Das.
Congress-RJD-JMM alliance's chief ministerial candidate Hemant Soren said "a new era for Jharkhand has begun."
but It is also a verdict for Congress that and Other BJP parties that, BJP might be losing but it is still the dominant player even in the Haryana and Maharashtra elections. Even if with other Non BJP parties, Congress may have upstage the BJP but still Congress is not an alternative.
Read More Latest Bollywood Movie Reviews & News
Read More Sports News, Cricket News
Read More Wonderful Articles on Life, Health and more
Read More Latest Mobile, Laptop News & Review