News
Key Guidelines for Domestic Air Travel | Airports Authority of India (AAI) |The National TV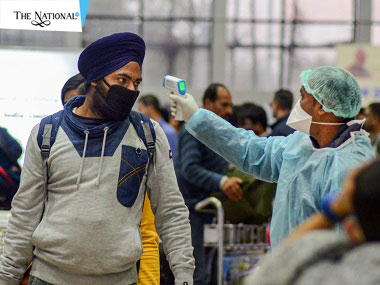 With the ease in lockdown 4.0, the airspace for the domestic flight service will open from May 25 2020. After this announcement from the center, the Airports Authority of India (AAI) issued Standard Operating Procedures (SOPs) for airport operations for recommended domestic flights. The airspace was locked down on March 25 and it will be after exactly 2 months i.e. on May 25 the domestic air services will begin partially. In the key guidelines issued by AAI, the Aarogya Setu App is mandatory for all the passengers and staff, the luggage will be sanitized before entering the airport and there will be restrictions in the number of taxis and cabs coming for a drop or pick-up.
Guidelines that airports need to follow:
Departure
For commuting to and from the airport, both by staff and passengers, only the personal vehicles or select authorized taxi services /transport services with restricted seating to be permitted.

All the departing Passengers must compulsorily be registered with 'Aarogya Setu' App on their mobiles and the same shall be verified by CISFI Airport staff at the entry gate. However, Aarogya Setu is not mandatory for children below the age of 14 years. Those not showing green on the app will not be allowed to travel.

Passengers shall compulsorily walkthrough Screening Zone for Thermal Screening at a designated place in the city side before entering the terminal building

Use of trolleys to be discouraged in departure and arrival area. However, select few passengers, requiring trolley due to genuine reasons, to be provided on a request basis.

Airport operators shall make appropriate arrangement for sanitization of baggage

Plexiglass covering check-in and security check counters

Support staff handling passengers with special needs like wheelchair etc. will be in full protective gear

Passenger seating arrangement inside airports shall be done in such a manner so as to maintain proper social distancing among passengers using the chairs by blocking those seats that are not to be used, with proper markers/tapes.

All airport staff handling the flight should be provided with Hand sanitizers and all essential Personal Protective Equipment (PPE) such as face masks etc. as per guidelines issued by MOHFW.

No newspaper/magazines will be provided in the terminal building/lounges.

Use open-air ventilation inside airports where ever possible instead of Central air-conditioning.

Entire terminal disinfection should be performed using duly approved disinfectants through fogging/spraying machines or physical mopping at regular intervals.

At Boarding Gates, passengers should be allowed to board in batches as per seating arrangements in the aircraft to avoid crisscrossing inside the aircraft.
Arrivals
To maintain social distancing norms, passengers shall be disembarked in batches sequentially.

To ensure social distance, the markings like a circle, the square should be provided around the baggage collection carousel for ensuring social distancing.

Before handing over luggage to passengers, all bags will be sanitized by airport staff before putting them on the conveyer belt.

Hand sanitizers shall be made available by airport operators for passengers and airport staff at various locations.

Airport operator to ensure that cleanliness and sanitization of every nook & corner of the building and public areas including washrooms, chairs, counters, trolleys, railings, doors, lifts, escalators, etc. to be done before the arrival of the flight and after the last passenger leaves the Terminal Building

Regular fumigation at taxi pickup and drop off points outside the airport.
Along with these guidelines, the Union Civil Aviation Minister Hardeep Singh Puri on Thursday said that airlines can sell at least 40% seats in flights at mid-point of upper and lower airfare limit set by the route. Also, only one-third of flights will be resumed from May 25. Along with this, no in-flight-meal services will be allowed for now. Thus, this set of guidelines will stand mandatory for all airports to start domestic travel.
Read More Latest Bollywood Movie Reviews & News
Read More Sports News, Cricket News
Read More Wonderful Articles on Life, Health and more
Read More Latest Mobile, Laptop News & Review