News
Human's Cruelty towards Animals Question Humanity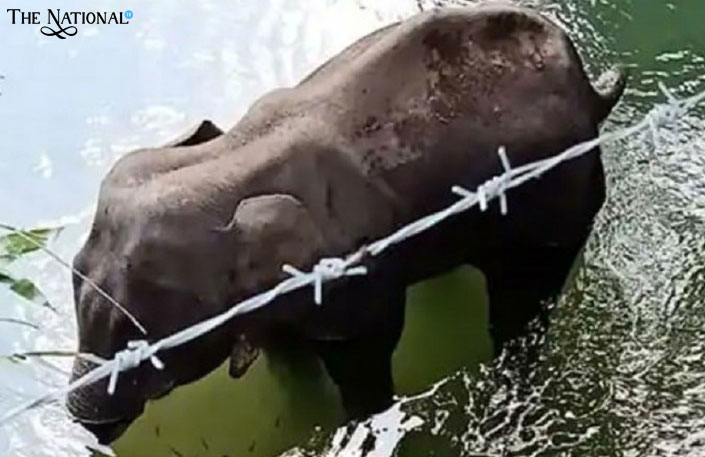 The brutality of human beings over animals shows how merciless the human race has become. The news from Kerala upsets us all but moreover, it is not the death of the pregnant elephant. It is rather a murder! In Kerala, a pregnant elephant was hungry for days and went out for food. When she came to a small village, she saw pineapple and thought it would turn out good for her and her baby. However, she was far away from the fact that this was not just a pineapple but a potential explosive kept by some people. The pineapple was stuffed with firecrackers by some unidentified people and as soon as she ate the pineapple, the crackers busted in her mouth giving serious injuries to her upper and lower jaw.
The incident came into notice of the forest department nearly 2 weeks after. This highlights that the 15-year-old elephant went all around in pain for almost 2 weeks. The rescue team saw her standing in the middle of a stream near a settlement with her head down and trunk in water. When the rescuers went near her using two captive elephants then she charged but didn't hurt anyone. According to the reports, she stood for around 48 hours at that spot in water before succumbing to the deep internal injuries in her mouth. It was then on May 27 when she passed away with her unborn baby.
According to the post-mortem, due to the cracker explosion, there were several terrible injuries to her upper and lower jaws. The area was filled with maggots and because of the injuries it could not drink or eat anything for weeks and thus became very weak and later to which she died.
The whole incident was brought into notice when on May 30 Mohan Krishnan, a section forest officer in Mannarkkad in Palakkad district, wrote a heartfelt note on Facebook which quickly went viral. This story is not only heart wrenching but a question to humanity as well. Have we all failed as humans in ushering our moral duty to respect each organism on this mother earth? The incident shows how the human race has become cruel and heartless. The incident shows how badly we have turned towards animals. It is to be highlighted in the incident that even after excruciating pain the elephant didn't hurt anybody didn't harm humans and their property.
This shows the greatness of an animal and devilish nature of the human race who fails to do justice with those who are innocent and can't speak. It is the time to give severe punishments to all those people who hurt animals, kill them, and leave them to suffer. It is an incident that has come to light there is no doubt that there are a number of incidents that might be occurring now even where animals are being tortured, beaten, slaughtered, and killed. Every animal has a right to live peacefully. They behave according to their nature and thus expect similar cordial behavior from us. But, each time we don't live up to their expectations. It is high time to not let any stone unturned in calling out severe punishments for people who deliberately harm animals and cause pain to them.
Read More Latest Bollywood Movie Reviews & News
Read More Sports News, Cricket News
Read More Wonderful Articles on Life, Health and more
Read More Latest Mobile, Laptop News & Review