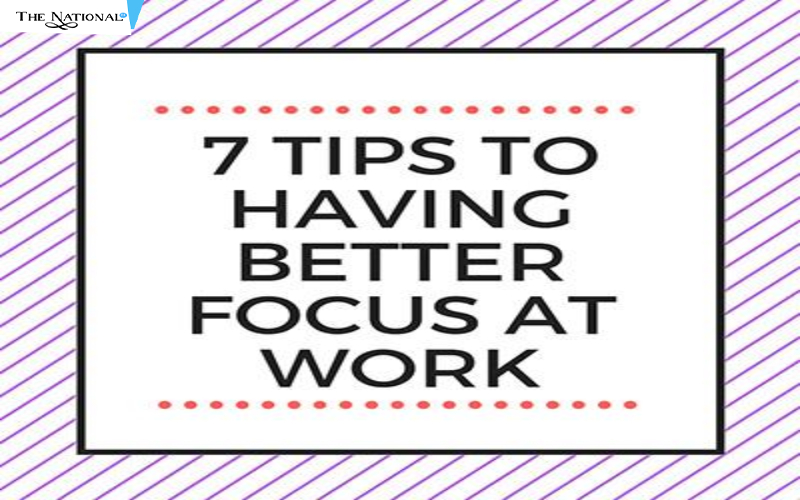 Focusing on works is the most challenging thing to do. Focusing also includes figuring out things that distract you. To focus on your works, 1st you need to calm down. Doing works with focus is very important.
Here are some tips, which will help you to focus on works:
1. Wear comfortable clothes: Yes, it may sound silly but clothes are the important thing you have to check before starting your work. If you wear uncomfortable clothes, it will start irritating you, and you will not be able to do work with all your focus. Good clothes not only helps you to concentrate on your work, but it will also make you look good as a professional employee.
2. Take breaks between work: Taking a short break like about 5 minutes will help to stay focused every time you start your work. We all get exhausted if we work for several hours without taking in between breaks. You can stretch for a while, it will release all the tension from your muscles and mind too. You can also walk for a while. And after 5 minutes start your work again with no stress in your mind.
3. Take a power nap: Once a day we all get tired, as we do a lot of works in our day-to-day life. So a power nap in a day is really necessary for our body and mind to get free of all the stress and fatigue. So a 20 minutes nap is enough for a person in a day to get their minds free of all stress and tiredness. This will surely help you to focus on your works.
4. Eat less at small intervals: What we all do is, we eat a lot of food at one time. Do you know? Eating a lot of food at one time can make your body lazy. I'm not saying that eat less. Eat healthily and have a balanced diet. But eating a little bit of food at different times can prevent you from becoming lazy. So, it will help you to retain all of your focus on your works.
5. Keep your place clean: The place where you work should always stay clean. A dirty workplace can distract your mind from focusing. If possible put things which inspire you to work, in your workplace. So whenever you pay attention to that, it will inspire you to work & you can focus on your works easily. Ensure that your study table is neat and tidy, Things on it are well arranged.
6. Leave that work for a while: Yes, leave that work if you are getting really bored with that. Because you will never be able to do it with all your focus. I'm not saying to leave it forever. Leave it for a while and do some other task, which you like to do. It will help to refresh your mind and now, start the work which you left undone. This method will help you to do the work which you do not like, with more efficiency. So you can now focus on works which you don't even like at all.
7. Listen to music: Music can be the most effective way which will prevent you from getting bored from a boring job. So next time if you don't like work or it's just boring and all you have to do is "work" then start listening to music. It will help you to focus on boring work. And also help you to do it with all your efficiency.
Read More Latest Bollywood Movie Reviews & News
Read More Sports News, Cricket News
Read More Wonderful Articles on Life, Health and more
Read More Latest Mobile, Laptop News & Review