Health
10 Fruits For Winter Diet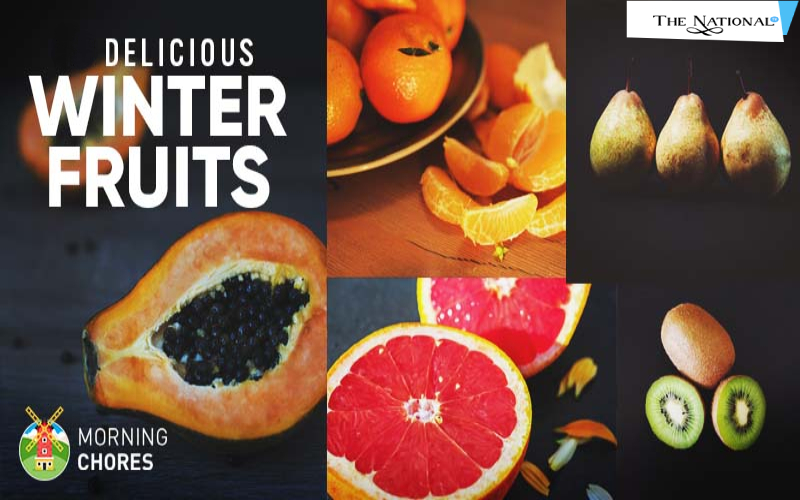 1. Grapefruits Topping the list of fruits is the sweet, juicy, and delicious grapefruit. This seasonal fruit ripens in January and is jam-packed with Vitamin C! Vitamin C helps bulk up your immune system, fortify your bones, and heal your injuries faster and grapefruit is packed full of Vitamin C, as well as Vitamin A. This winter fruit can be topped with sugar to make it taste a little less acidic. Cottage cheese is also a great topping!
2. Pears Pears are not packed with Vitamin C or A or even D, but dietary fiber. Fiber is known to assist in digestion, lower cholesterol levels, and help in weight loss! If you're trying to figure out a way to lose the holiday pounds, add this winter fruit to your diet for a low-calorie, weight loss aid snack!
3. Pomegranates A goddess among fruit, the pomegranate is not only known for its legendary origins, but it's a sheer number of health benefits that range from containing tons of antioxidants to aiding in the prevention of certain cancers. Add pomegranates to your winter diet and enjoy the health benefits and sweet-sour taste of every scrumptious seed. You can even down a glass of pomegranate juice if you're on the go this winter.
4. Oranges This wouldn't be a robust list of winter fruits without the orange. You are going to want to make oranges, and any other citrus produces for that matter, your go-to snack food. Oranges, while not necessarily winter crops, are always available and always a good option. Certain orange juices are fortified with Vitamin D in addition to the other nutrients you get from straight citrus. Be on the lookout so that you can get your daily dose of sunshine in a cup.
5. Pineapple For those of you who don't like oranges, pineapples are a good substitute, considering they too are stuffed with Vitamin C. They also have very strong anti-inflammatory properties, helping keep allergic rhinitis and other seasonal inflammatory diseases in check. Definitely one of the best fruits that grow in Winter.
6. Sapota / Sapodilla / Chikoo Vitamin A is a key ingredient in our diet that helps maintain the health of our eyes. One of the best sources of this nutrient is chikoo. This humble-looking fruit also makes a great snack for untimely hunger – giving you a great energy boost. Also, if you have any pregnant friends, encourage them to eat this food to keep dehydration away.
7. Sweet Lime Also called mosambi, here's a third alternative to getting your daily dose of Vitamin C. Sweet limes top the Winter fruits list, as they are typically sweeter than oranges, and pack slightly more fiber. However, did you know mosambi also has anti-congestive properties? Take a bite and breathe easy!
8. Starfruit If you are trying to get your cholesterol levels under control, star fruit is your star! This fruit prevents the formation of fat cells in the body. Yes! It is also a fruit that goes great with salads, because of its characteristic sweet-and-sour taste. What's more, its interesting shape makes it an instant hit with children!
9. Papaya Papaya is the ideal fruit for winter because it increases body heat, giving you a natural and nutritious way to tackle the cold temperature. Ladies, there's good news for all of you – papaya can also help ease menstrual cramps! It also is great to restore a glow to the skin.
10. Beets Beets can be consumed throughout the year, but they are the best ones during the winter season. It contains a compound that helps prevent heart and liver diseases and also helps enhance the blood flow to the brain. In winter the body metabolism is low and so it is advisable to take fruits and vegetables that are low in calories and have dense nutrients. Also, experts are of the opinion that eating seasonal fruits and vegetables is healthier because the nutrient contents vary when grown in the off-season.
Read More Latest Bollywood Movie Reviews & News
Read More Sports News, Cricket News
Read More Wonderful Articles on Life, Health and more
Read More Latest Mobile, Laptop News & Review