Environment
Amazon Tribe puts victory over lawsuit against Big Oil, saves million acres of Rainforest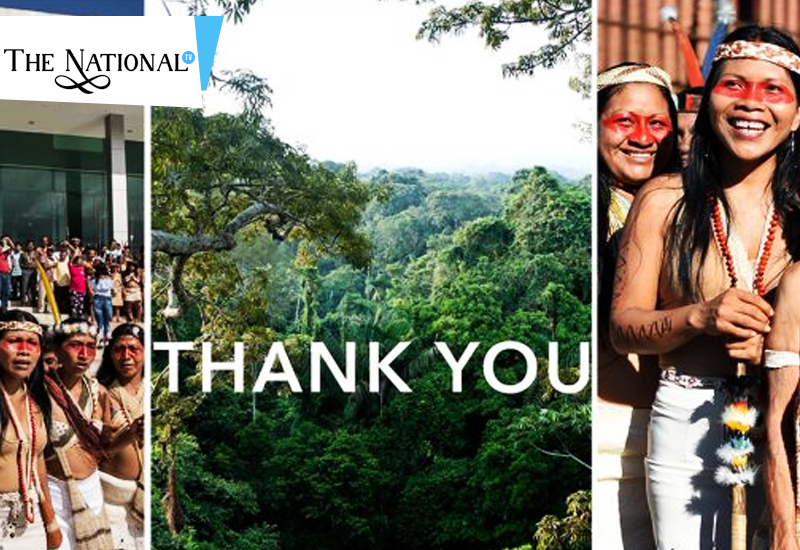 The nature has gifted us all with abundance of green forested area which not only provides us with basic facilities but also defines our existence. In the abode of nature, one such blessing is of The Amazon Rainforest. The rainforests are profoundly known across the globe for being the largest and most dense areas of woodland in the world. These rainforests cover nine countries sheltering millions of rich variety of flaura and fauna. These rainforests are also home to some indigenous groups. The Waorani people of Pastaza are an indigenous tribe from the Ecuadorian Amazon and have lived in the vistas of rainforest from generations. When a threat to these rainforests seemed to be coming from big oil company, these tribes rose to be vigilant and headed to take up a legal action.
The legal battle started over when the Waorani people saw threat over their home land from a big oil company that was set to oil drill over an area of seven million acres which is almost half a million acres of the rainforest. The oil company was set to destruct the tribal ancestral land when they mined it for oil drilling. The Waorani people didn't take it on a light note and filed up for legal justice. The long run battle which was earlier seen to be not in favor for the tribal people finally fell into their arena to put justice for people and the nature as well. The auctioning off of Waorani lands to the oil companies was suspended indefinitely by a three-judge panel of the Pastaza Provincial Court. The panel simply rugged off the consultation process the Ecuadorian government had undertaken with the tribe in 2012, which rendered the attempt at land purchase null and void. The verdict has also set other areas to step forward to protect the rich diversity of nature. After accepting a Waorani bid for court protection to stop an oil bidding process, the court also halted the potential auctioning off of 16 oil blocks that cover over 7 million acres of indigenous territory.
This is looked over as a massive win for the indigenous tribes all over the Ecuadorian Amazon rainforest that have strongly made the voice loud about the indigenous people's right over the land they built home on. This has not only saved the rich natural diversity and indigenous people's lives but also led to preserve the cultural heritage of such people and the areas. However, this battle is an example of a small victory, the larger one lies in the support from people across the globe to help them preserving their land and not to insensibly interfere to pose threat in their life cycle and the natural belongings.
Read More Latest Bollywood Movie Reviews & News
Read More Sports News, Cricket News
Read More Wonderful Articles on Life, Health and more
Read More Latest Mobile, Laptop News & Review
-----------------------------------------------------
Today's Trending Videos
Join Us on Youtube: Subscribe Our Channel Now