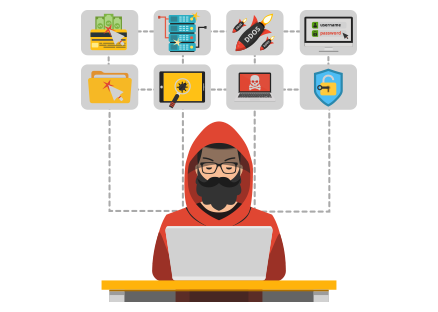 Cybercrime is any criminal activity that involves a computer, networked device or a network. While most cybercrimes are carried out in order to generate profit for the cybercriminals, some cybercrimes are carried out against computers or devices directly to damage or disable them.
SOLUTION TYPE: SOFTWARE
There is no "one-way" solution, but things have to be set properly in any device that we use, post which, users being highly aware of every segment of what's happening in and around the device can help in reducing cybercrimes.
Always use a STRONG password
Install security software.
Download apps from approved sources.
Beware of links you receive via email or text message.
Never use the same PIN for multiple accounts.
Never use cyber cafes or Internet banking.
Register for mobile alerts.
Use ATM conceal keypad before entering the PIN code.
Use extra security features.
Use login notification alerts.
Allow specific individuals to view your content.
Control who can contact you.
Block your profile from search engines.
Remember, what you put online always stays.
Never trust any free online content.
Do not provide personal information online to get something free.
Don't click on links or attachments. inside email.
Here are seven basic things that you can start doing today to better protect against computer crime.
1. Make sure your security software is current – and update it regularly.
Having the latest security software goes a long way toward protecting against viruses, malware and other online threats.
2. Lock or log off your computer when you step away.
This ensures that no one else will have access to all your information.
3. Go offline when you don't need an internet connection.
If your computer is always connected, it increases the chances that hackers and virus scans can invade your computer.
4. Take advantage of security settings.
Use PINs or passcodes to protect someone from easily accessing all your information on your smartphone, tablet, and computer. For social media websites and apps, be aware of your privacy settings and change them to your comfort level so only the people you want can see the information.
5. Consider sharing less online.
Including information like your birthdate and the city where you live on your social media profiles can
give criminals a more complete picture and make it easier for them to steal your identity.
6. Think twice about using public Wi-Fi.
Hackers can easily connect to public Wi-Fi and watch your every move, including what passwords and account information you enter while you're connected. To keep your information safe, either don't use public Wi-Fi or avoid entering private information and using apps that have passwords when you are on public Wi-Fi.
7. When in doubt, don't click.
Cybercriminals can compromise your information through tweets, posts, online advertising, and emails. If it looks suspicious, just delete it. Beware of anyone who implores you to act immediately.


Apart from this, there are activities that we should get notified to:
• Keep software and operating system updated
• Use anti-virus software and keep it updated
• Do not click on links in spam emails or untrusted websites
• Do not give out personal information unless secure
• Contact companies directly about suspicious requests
• Be mindful of which website URLs you visit
• Keep an eye on your bank statements
• Install safety browsers
• Never fall for internet scams - try identifying their true profiles – lottery scams, and love scams are often popping up on every single page of the site we visit
Optimize your email security
Adopt companywide password policies
Have state-of-the-art protection software in place
Understand where your IT network is vulnerable and make necessary adjustments
Have your IT specialists communicate regularly with all staff members.
World-class learning for you
– Authorized certificate recognized everywhere