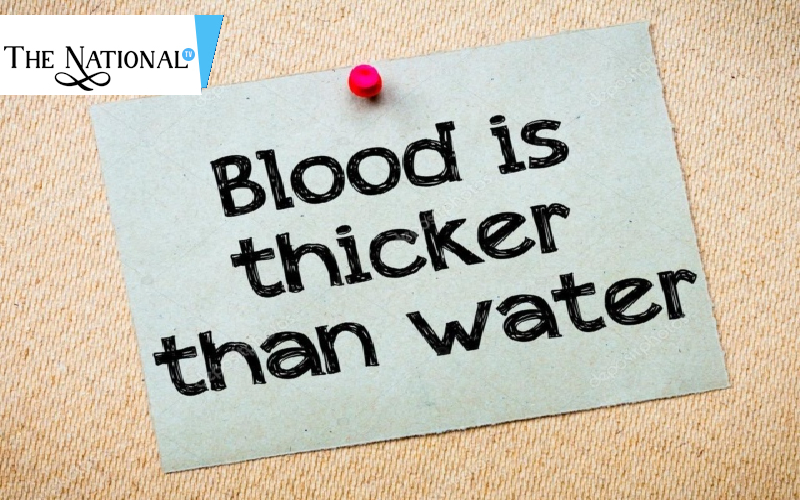 Family is the most beautiful connection that entangles the most intricate and beautiful feelings in the world. Family is not just a word but it's a feeling that tightens the threads of love and care. Families are made by connections, to create feeling of oneness and support in accomplishments and unfortunate failures. It's a lifeline that stands like a pillar to give strength in all problems. Family doesn't have to be someone to whom you gave birth or to be someone who came in life years ago, it can be someone who showed up immense love and made a connection right from the first eye glance or who stood up out of the blue and made your life more peaceful.
It is true indeed, family isn't someone who shares the same blood or DNA; it's a relation where the connected string of a person blows the music of well being and happiness in the entire family and brings joy to the hearts of inmates. It was quite debated in the air when 21 month old baby girl was adopted by Sunny Leone, breaking all the odds of what people talked about family being started by giving birth to a new one. Her daughter named Nisha Kaur Weber was adopted without looking at color, background and health status. This gives a glimpse of what a connection is felt by a young child to a mother who hasn't given birth but has nourished and taken care like that of being her own blood. This makes us peep in many Indian celebrities like Sushmita Sen who fought for the custody of adopting a girl at young age of 25 and many more like Raveena Tandon, Subhash Ghai, Jay Bhanushali and Mahi Vij and many others. A blood relation makes a family related but a connection makes it worth living. It is not false that families connected with blood aren't more related but it is not even mandatory. There have been instances where blood relations don't show up in adverse situations and even siblings go to shed blood in verge of gaining the profits but there are acquaintances that stood the odd with the family and helped in blooming happiness and nurture love and care.
Family creates an aura of peace to live and build the relations. There are some friends who seem to be part of family since the day of memory and there are people who do every possible thing without giving any second thought as they prosper to bring a single curve on lips that rejuvenatethe happiness one wants. It is evident whenever we see the sibling love of Salim Khan's family where Arpita was adopted not just to create a family but to complete a family. This makes it more evident that a family isn't always blood. It's the people in life who want you in theirs; the one who accept your flaws and flaunts in every situation and the ones who would do anything to see you smile and love you no matter what.
Family is the world where blood relation isn't the source, it is a bond where people become an indispensible part for their care and love towards each other. It is someone for whom you mean the world and who takes the time out of their day to make you a part of theirs. It's all about true connections that join people to be a part of it not only through the biological relationship but through the love and care for each other which don't make a family an important thing but just "everything".
Read More Latest Bollywood Movie Reviews & News
Read More Sports News, Cricket News
Read More Wonderful Articles on Life, Health and more
Read More Latest Mobile, Laptop News & Review
-----------------------------------------------------
Today's Trending Videos
Join Us on Youtube: Subscribe Our Channel Now