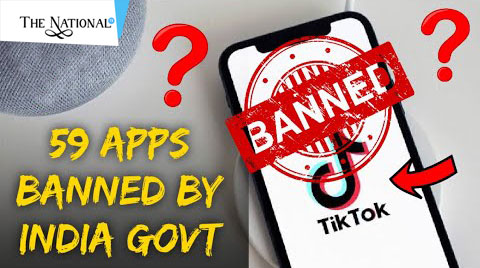 The Indian government has already banned 59 applications, majorly because of the rift between Indian and Chinese troops in Galwan Valley. Ban on these applications is not just a result of a single cause, it is well thought and planned step taken by the government. Those 59 applications which got banned had millions and more engagement from the citizens of India. The sudden ban on these applications which included "tik- tok", which had about 200 million users engagements from India, can be an alarming signal for the Chinese government. As there are still many Chinese brands that have a huge market in India, they can suffer a great loss if China loses its market in India.
This step of the government of India, clearly depicts that this is a warning signal to China after the Galwan valley incident. Reports say that the ban on these Chinese applications has been beneficial to the substitute applications eg. Mitro, Roposo, chingari, etc. Mitron app gained wide popularity soon after the app was launched in India a couple of months ago. The app faced several controversies but has been back on track soon after. Just a day after the Government of India announced a ban on several Chinese apps, Mitron reported its daily traffic jumped up by more than 11 times. Mitron has been downloaded by 17 million users in India currently. Now when we talk about real issues with Chinese applications, there are a number of facts to prove that the ban on these applications was a required step long back.
A year ago these Chinese applications were claimed for their privacy and security policies. UC browser was allegedly involved in the same and news floated around about the ban on these applications over alleged mobile data leak. Similarly, CamScanner faced malware issues and also security questions were raised on it. Other countries also questioned China about the same and also carried out privacy investigation on these applications. China's National intelligence law from 2017 requires organizations and citizens to "support, assist and co-operate with State intelligence work", which means that China can spy on India conveniently with the help of these applications. Whenever we copy information on our clipboard either it is OTP or other information, China can use the data and get access to each citizen who uses these applications. So now the question arises - Is it worth it to risk for a country who has attacked India and is planning more than this? Now think twice before questioning the government about the ban on these applications.
Read More Latest Bollywood Movie Reviews & News
Read More Sports News, Cricket News
Read More Wonderful Articles on Life, Health and more
Read More Latest Mobile, Laptop News & Review