'The National TV's Exclusive Interview'
Artistes Of The Month-Musical Band 'Tetseo Sisters'
"For me the jasmine buds unfold
And silver daisies star the lea,
The crocus hoards the sunset gold,
And the wild rose breathes for me.
I feel the sap through the bough returning,
I share the skylark's transport fine,
I know the fountain's wayward yearning,
I love, and the world is mine!…"
These rhythmic expressions resonate with the vista of a quintessential all-female musical band named 'Tetseo Sisters' towards their music.
'Tetseo Sisters' has earned spurs for being an ingenious all-female band that takes immense pride in representing the rich cultural heritage of not only Nagaland but the entire North East.
'Tetseo Sisters' perhaps concur with the idea that musicians need not compose a magnum opus every time but they must strive to pursue something distinguished in the form of a progressive vision, ingenious sensitivity and artistic perspective.
The musical integrity of 'Tetseo Sisters' and their unparalleled dedication combined with a clear emphasis on vocal harmonies distinguishes them in the musical sphere despite using simple instruments. Singing in 'Chokri' has been the major focus of 'Tetseo Sisters' but they also sing English cover songs and melodious Bollywood numbers.
Meet 4 ravishing refined performers equipped with a dynamic range of vocals who believe
"Some people have lives; some people have music."
Mercy
Azine
Kuvelu
Alune
'Tetseo Sisters' is not merely about the spellbinding folk songs. It is indeed a beautiful organic calling towards leading life to the fullest by reflecting upon the myriad blessings bestowed upon the living creatures by the munificent nature.
Catch the nature-inspired organic melodies of 'Tetseo Sisters' on
https://www.youtube.com/channel/UCnXeXvlnB-ROCduQiCeAsDQ
https://gaana.com/artist/tetseo-sisters
Visit the following links to know more about 'Tetseo Sisters'
http://www.tetseosisters.com
http://facebook.com/tetseosisters
http://instagram.com/tetseosisters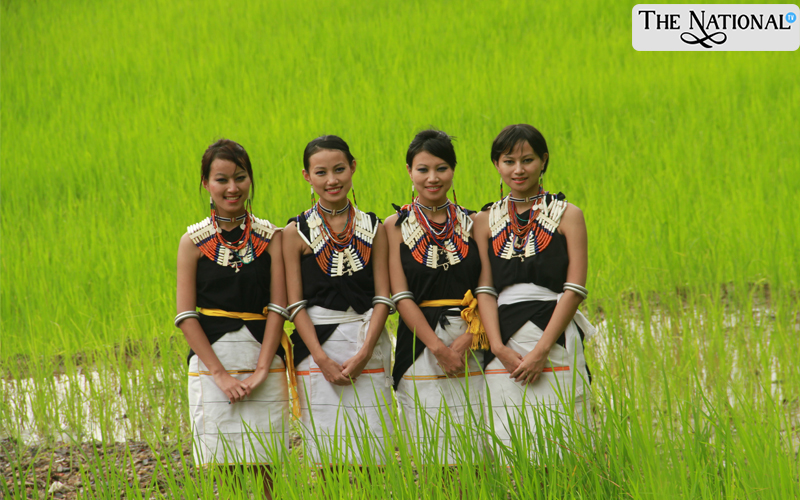 'Tetseo Sisters' Interview with Hiranshi Mehta
In an interview with Hiranshi Mehta 'Tetseo Sisters' converse about their zeal towards redefining folk music and how they went on to become representatives of Nagaland's Music and Culture.
When and how 'Tetseo Sisters' was formed?
We 'Tetseo Sisters' spent our childhood in Kohima amidst music-inspired ambience. Our parents realized our singing potential and then insisted that we learn to sing the tribal songs in our original 'Naga' dialect. A singing passion born out of an extra-curricular school activity transformed into a musical career for Mercy (the eldest of the siblings). Opportunities began to pour in as one after one sister, joined the Band. By the year 2007, we 'Tetseo Sisters' began our career on a professional note. (Full time musicians mode)
So precisely we do not have the exact date to share when exactly it was formed but our first performance was in school in the very early 90s. We would have regular concerts every Sunday night in our family living room anyway. The 'how' part is even more difficult to answer. We had a bigger group of friends with whom we sang and performed together and then the friends left and other friends joined and so on so forth till only we siblings were left. And then we began to earn an identity as 'The Singing Sisters' or 'Sister Band', finally Tetseos and then 'Tetseo Sisters'.
What does your Band Name Mean? Do you have any interesting story to share about the same?
Our family is name is Tetseo and we are sisters, so that is how we thought of 'Tetseo Sisters'. People react when they find out that our brother also performs with us and ask why not Tetseo family. When we started playing as a band, it was just the girls initially and the name stuck and then, he came on board along with other musicians for our other sets. However, by that time, it did not make sense for us to change our name again. Technically, he is Mr Tetseo and we are his sisters so even Tetseo's Sisters also makes sense.
Would you like to share your experiences regarding accessing opportunities related to 'Live Performances'?
Singing in our regional dialect i.e Chokri has never been an obstacle in our success as the music itself is a language that knows no barriers. Our audiences do look up to our songs owing to their mystical fusion vibes that are woven out of western contemporary, blues, RnB, soft rock, jazz, alternative and pop influences and acoustics.
We would be the most active folk group from the Northeast and we do love our LIVE shows. While many of our fans are yet to see us live that is rather unfortunate as many times we are performing at very formal/official events for eminent personalities with high security in place. We also get to perform at most Northeast-inspired themed events where entry is free and anybody can walk in too. We have had mostly been booked by word-of-mouth that is a rather slow process but we also strive to reach out to people with our profile and bio regarding exploring future opportunities.
We are active on social media and anyone who wants to book us for their event can do so by sending us an email with their requirements and dates to mailtetseos@gmail.com or DM us on Instagram, Facebook etc. However, we would also like to share experiences regarding the kinds of inquiries that we receive on social media out of which we find few inquiries to be ridiculous and nonsensical.
What are the parameters for success for 'Tetseo Sisters'?
We have experienced diversified shades of success in the form of winning MTS Discover Band Competition (NH7 music festival), collaborating with other talented artistes and releasing addictive version 'Marvin Gaye' (Charlie Puth). 'Tetseo Sisters' has been receipt of a few more prominent awards. They include Eastern Panorama Excellence in Music North East Award (2014), Nagaland Governor's Award for Excellence in Music (2018) and Nagaland Music Awards "Trail Blazer Award (2013).
Nevertheless, for us, success is a broad term. There are two kinds of success and out of them one is material and other is contentment. We are working towards achieving financial stability when it comes to material success. On the other hand, when it comes to the contentment as artistes', we are constantly indulged in striving to be a better version of ourselves every day and every show. However, we are grateful to God for our blissful experiences as artists.
Also, we 'Tetseo Sisters' look forward to leveraging our success in myriad ways (with or without music) by being vocal about varied social and environmental causes. They include women's safety and their rights, gender equality, health, education, environment protection and many more. This is one lesser known parameter related to our success.
What is the most remarkable aspect of being a member of 'Tetseo Sisters'?
One of the most remarkable aspects of being a member of 'Tetseo Sisters' for all of us is to be able to explore different parts of the country and the world. Also, it is also about being able to tell our stories and change the narrative of how the world perceives us as Nagas and NEasterners and Indians. Yet another wonderful aspect is to be instrumental in opening up a new experience to people who come to listen to us.
What piece of advice do you have for people who want to form their music band?
Go for it but be strong and patient and persist. People who want to form their music band must possess clarity regards to the vision about their lyrics and music.
How do the band members deal with performance Anxiety?
Not so much of performance anxiety but yes we all get a good adrenaline rush just before heading out to the stage. To deal with it, we do prefer to relish a warm cup of tea. However, our anxiety is greater towards making it on time for our flights and dealing with the entire rituals including baggage restrictions/excess baggage fees and security checks. We become extremely concerned regarding the safety of our instruments, costumes and jewellery throughout the entire process of security check.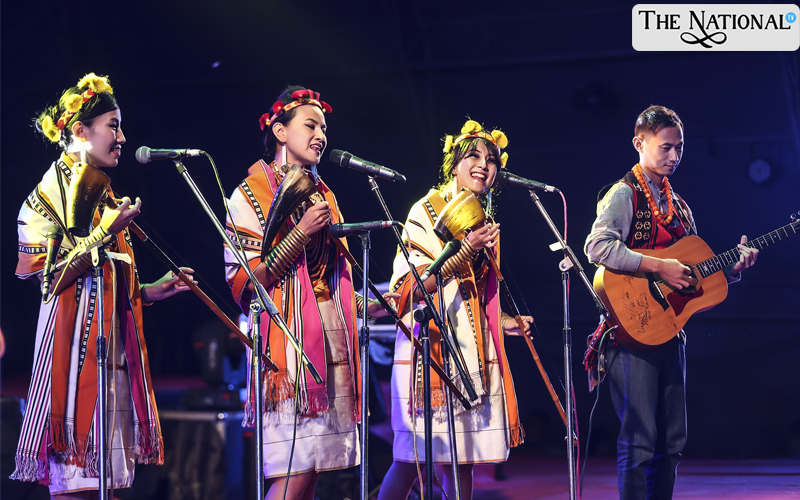 What are the main themes for most of your songs? Do you think these will change over time?
The beauty of the songs sung by us are that they are so relevant and contemporary in their timeless and universal nature. The music of 'Tetseo Sisters' has been able to elicit the comprehensive array of human emotions experienced in life. These emotions take form of recurring themes of our songs. These emotions embrace love, nostalgia, joy, disappointments, dreams, contentment, celebration, honor, longings, beauty, friendship, nature and the list goes on.
Have you ever met with criticism so far? If yes, how did you handle it?
It is hard to please everyone and while acknowledging this fact, we do not even put efforts to please everyone. There are the purists who expect that we should stick to the absolute original/old way of singing. Others expect that we should do only fusion. We strive to strike a balance of documenting and recording the old songs in its original forms as well as tweak some of them while reintroducing them to the world in an amusing avatar. We feel that both are significant for the preservation and promotion of our conventional ways so that they remain alive and do not get forgotten.
Which 'Live Performance' is your most cherished Live Performance and why?
The list is long. Performing on the Bacardi NH7 stages of Pune/Kolkata/Delhi is an incredible feeling being the first and only Naga folk/fusion band to do so till date. Then performing at the Edinburgh Military Tattoo for a full month in Scotland with Team Nagaland is another extraordinary memory. Singing with our mother in Nepal and in Jamshedpur at the International Tribes Festival remains a strong memory as we got to share the stage with our mother and guru. We even got a standing ovation from the multi-country audience.
How do the band members deal with the difference in opinions?
We are a democracy. We put it to a vote.
Who are your biggest influences?
We adore folk music and world music from around the world. We are fond of vivid musical taste that ranges from Beatles to the mesmerizing Tibetan chants, from Jazz to Blues, from Hip-hop to gospel and of course country music and Pop music.
Precisely, the list of our biggest influences encompasses our parents, other artistes, writers and of course Nature. Our belief related to the Nature resonates with this adage, 'If the sight of the blue skies fills you with joy, if a blade of grass springing up in the fields has power to move you, if the simple things of nature have a message that you understand, rejoice, for your soul is alive.'
What is the common vision shared by the band members of 'Tetseo Sisters'?
The common vision that is shared by the band members is to be the best in our field and to push ourselves to greater heights. Last but not least, to never give up and to continue reinventing ourselves. Also, we envision a day when we would be able to make Li as admired as Irish folk or African folk music.
Would you like to share experiences about life and before after your debut album 'Li Chapter One'?
Li is about time-honored folk songs in the structure of poetic phrases and verses imbibed with stories within stories that leaves scope for diversified interpretations. Around the time 'Li Chapter One' came out, social media was gaining ground and we suddenly became very visible to the younger people. There was a period when everyone was super supportive and positive. Nowadays, there is more negativity online rather than positivity. However, we prefer to ignore the negativity and focus on the positivity. The music is very much part of our life but it does not define our very lives and therefore there has not been a drastic change 'before and after'.
What are your current projects?
Our current projects include working on 'Chapter 2' and more EPs along with preparing for our upcoming live events.
If 'Tetseo Sisters' could change anything about the 'Music Industry', what would that be?'
We envisage a phase when the crazy focus on Bollywood music tones down a bit as it sidelines all other genres. We receive the invitations to perform in corporate events quite often. They insist on having a fusion band on the board that can perform on a few English pop classics combined with one or two Bollywood numbers. Gradually, the request for Bollywood begins to dominate up to an extent that the setlist looks like 90% Bollywood songs, one/two English numbers and one/two of our originals out of 90 minute-set. That is a point when we feel that it is better to decline the gig by suggesting them to hire a professional DJ instead. We simply wish there was more space for other genres and languages, and more venues to embrace diversified genres of music in this country that does accommodate varied interests.
It is not that we have anything against Bollywood music. We do enjoy Bollywood music ourselves but it should not overshadow other genres of music by being the end of all things music. We hope that with time, audiences open themselves up to diversified genres and more independent musicians. Cheers!
Author's Note:
We have an exceptionally distinguished tale of 'Tetseo Sisters' to tell you. We hope that our readers will be able to immerse into it. I am grateful to them for trusting my competence to unleash the unexplored shades of myriad vision of 'Tetseo Sisters'. In my personal opinion, listening to their music is no less than experiencing a quasi-spiritual practice. The soothing music of this all-female band has become my personal favorite owing to its unparalleled mystical healing vibes. We wish 'Tetseo Sisters' continued success in their all future endeavors in the sphere of music and social work.
About the Author:
A Copywriter, an Image Architect, an Apparel Designer, a Brand Strategist, Hiranshi Mehta is National Creative Head with 'TheNationalTv'. Her epistemophilic personality epitomizes her winning personality traits. Outside her professional life, she has a distinctive vantage on world talents and the concept of altruism, the conventional underpinnings of diverse shades of life and of course the creative prowess to blend it all together.
About the CEO:
An Educationist, an Entrepreneur, a Visionary Leader, but above all, a remarkable sophophile, Mr Sunil Sharma's aptitude is not new but it has been discounted as many people fail to appreciate his larger-than-life vision. Nevertheless, he believes in being a trailblazer in the milieu of initiating revolutions in a country that is eager to embrace the vivid cultural and social transformations to make its presence felt on the world's map.
We'd love to hear your thoughts.
Find us on Twitter: https://twitter.com/TheNationalTV
Facebook: https://facebook.com/TheNationalTVofficial/
Instagram: https://www.instagram.com/thenationaltvglobal/
Linkedin: https://www.linkedin.com/company/thenationaltv/
or write into info@thenationaltv.com