Photo by Ishita Singh
'TheNationalTV's Exclusive Interview'
Artistes Of The Month-Musical Band 'Antariksh'
"There's music in the sighing of a reed;
There's music in the gushing of a rill;
There's music in all things if men had ears:
Their earth is but an echo of the spheres"
These rhythmic words elucidate the approach of a far-famed Rock Band named 'Antariksh' towards their music.
'Antariksh' has earned a repute of being one of the most imaginative Indie Rock Bands based out of India, based on their originality of work and impeccable presentation. This musical band embraces an extremely sui generis breed of music that amalgamates soulful yet progressive sound vibes and effervescent Indie Rock aura.
'Antariksh' made a name for itself post-release of their debut album named 'Khoj. However, their first solo song track named 'Dheere Dheere' that was recorded much before the release of their debut album ensured carving a rock- solid foundation for the band.
Music is one of the most non-complex forms of arts and hence it appears so effortless. It is an art that emphasizes on expressing emotions and even ideas by deploying vivid elements encompassing harmony, rhythm and melody through either instruments or voices, or both. Music is such thread that binds the entire universe together.
Meet 4 charismatic Musicians
who believe that
"music imitates life and life imitates music"
Varun Rajput: Founder, Lead Singer and Guitarist.
Dan Thomas: Drummer
Shrikant: Guitarist and Backing Vocalist
Joshua Peter: Keyboard Player and Singer.
'Antariksh' is an unfeigned travail that awakens the pinning to rejoice the authentic lyrics, suave melodies and avant-garde sounds.
Catch the groovy melodies of 'Antariksh' on
https://www.youtube.com/watch?v=Rt5lg0gw_8Y
https://soundcloud.com/antarikshofficial
https://www.instagram.com/antariksh_official/?hl=en
Visit www.antariksh.in and http://www.varunrajput.in to know more about 'Antariksh'
Photo by Deepanshu Dayal
Varun Rajput Interview with Hiranshi Mehta

Varun Rajput shares his nostalgia and vision for the band's journey as 'Antariksh' continues to redefine Indie Rock music
When and how was 'Antariksh' formed?
The Antariksh's inception journey goes back to the year 2012 when I laid the foundation of the band on an experimental basis in collaboration with a few friends of mine, Mridual and Gurtej. The integral notion behind that was to synthesize the youthful, sassy and radical integrants of the Western music with the contemporary Hindi music. We could indubitably surmise that this kind of unification was non-existent in the gamut of Indian self-sufficient Music Scenario. Therefore, we thought to be the frontrunner by curating such inimitable music.
Interestingly, we were into playing for progressive heavy metal bands earlier and hence realized that there remains a brilliant scope to blend varied music genres incorporating Prog, Pop, Carnatic, Reggae, Cinematic and nervy Rock music in Hindi. Certainly, there was some sort of dilemma within us regarding embarking on a musical journey but we decided to take a leap of faith. The aftermath resulted in 'Connecting Dots' saga and that is how 'Antariksh' completed 7 thriving years as an Indie Rock band. It has certainly been a journey of its kind, full of experiments, accomplishments, laurels, recognition but most importantly learning and evolving as individuals.
What does your Band Name Mean? Do you have any interesting story to share about the same?
Antariksh, quite literally means 'outer space'. Honestly, there is no fascinating story behind the name. The name stemmed from the dearth of pleasant, non-cheesy band names we could mull over. Out of all the probable alternatives we had, Antariksh was one name that resonated the most with our ideology that too unanimously, so we decided to stick with it. However, there is more to the story. Our collective philosophy was to ensure not to restrict musical boundaries to a specific genre or a style. We believed in the concept of the constant evolution of music as we continue to evolve as musicians. Thus, 'Antariksh' seemed perfect.
Would you like to share your experiences regarding accessing opportunities related to 'Live Performances'?
Well, we have been performing live ever since we embarked on our musical journey. It is an indubitably amusing, delightful and elating experience. The liveliness, euphoria and the feeling of gratification you get while playing your original music in front of audiences across different cities is absolutely beyond words.
What are the parameters for success for 'Antariksh'?
The most basic parameter of success is to grow as musicians and become tighter as well as a more entertaining live act. Some of the more specific parameter with regards to keeping a track of our progress encompasses number of gigs performed by us in a year, number of new songs written by us on an yearly basis , analyzing quality of the live gig experience we deliver, number of big stages and music festivals we play every year, percentage increase in the average price point on year to year basis.
What is the most remarkable aspect of being a member of 'Antariksh'?
It is difficult to speak on behalf of remaining band members. As far as my belief regarding the remarkable aspect is concerned I find it quite astonishing and extraordinary that I have been able to do this pretty much by myself, consistently for 7 years. Also, expanding in multiple directions by embracing multiple risks despite random amendments in lineups is something that I consider to be quite remarkable. Thankfully, we have been able to put our sincerest efforts quite consistently and have laid a rock-solid foundation for the band. The same has helped us built up a repute based on which we continue to be the recipient of incredible love and respect that is showered upon us by our admired fans and well-regarded friends whenever we release new music or perform live. Again that is one more remarkable aspect as a member of 'Antariksh'.
What piece of advice do you have for people who want to form their music band?
I would strongly suggest laying an extremely concrete foundation. The ingredients for the same include selecting the apt talented members, clear thought-process about the branding of a band image, establishing quantifiable goals, unwavering commitment, unity and many more. Each band member must be able to strike a balance between individual creativity and group creativity. With a razor-sharp focus, continue to work hard, stick around for long enough to make an impact and, yeah – have fun while you're at it.
What are the main themes for most of your songs? Do you think these will change over time?
So far, we have been known to write about a lot of introspective and contemplative topics that makes one experience different emotions and question a lot of things about life. We have always written songs about ideas that resonate with us. For instance, our song 'Dheere Dheere' addresses identity crisis that quite a few of us face in our mid-twenties. As far as our upcoming song, 'Jee Le Zara' is concerned it talks about breaking free from the shackles and burdens that the society puts upon us. This song is all about discovering the courage to live life our way, for there is no one right way to live.
The songwriting processes, as well as themes, have surely evolved over the last 5-6 years. I feel we are moving towards a more storytelling style of lyric writing and the second album too is pretty much done. However, while moving forward with the third album, I would surely desire to change the themes quite a lot.
Have you ever met with criticism so far? If yes, how did you handle it?
Absolutely yes. Criticism and feedback are an important part of any art form. If it is legit criticism or feedback, we embrace it with utmost positivity and strive to improve accordingly. If it is all about random niggling (which has been very rare), we prefer to ignore 
Which 'Live Performance' is your most cherished Live Performance and why?
Oh! It is tough to think of one performance as there are so many cherished ones. I think a couple of recent ones that stand out were the performances at LSR and IP College for Women where the energy levels were mind-blowing. Also, another opportunity that I cherish most was when our song, 'Kaahe Re' was selected as one of the top 7 out of 170 songs to be presented to a bunch of remarkable Bollywood movie directors at 'All About Music Conference:2018'. They include eminent names like Subhash Ghai, Mohit Suri, Rakeysh Omprakash Mehra, and Anand Basu. When we became recipient of their incredible and utmost inspiring feedback, we encountered one of the most memorable moments of our musical band journey.
How do the band members deal with the difference in opinions?
Fortunately or unfortunately, since I am the one who is most invested in the band, I get to call the shots! Hah! :D On a serious note, I intend to deal with any difference in opinion as logically and reasonably as possible. I make it a point to have a dialogue and proper communication until we reach a logical conclusion.
Who are your biggest influences?
Well, some of my biggest influences include bands like Pain of Salvation, Dream Theater, Queen, Iron Maiden, Toto. Amongst Indian bands and musicians, I love music by Thermal and a Quarter, Amit Trivedi, AR Rahman, Ram Sampath and Clinton Cerejo.
What is the common vision shared by the band members of 'Antariksh'?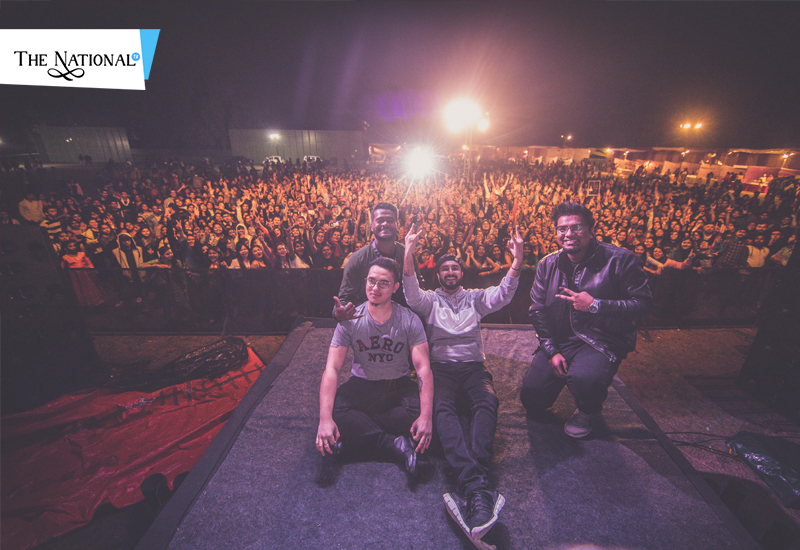 Photo by Akash Kaushik
At present, it is to compose, record and release a lot of superior quality decent music with consistency and make our mark in the Indian music industry. We aim to become the most authentic and sough-after Hindi rock band in the country. Also, we do not wish to just limit ourselves to being called a band playing live gigs, we want to be scoring music for films. We equally look forward to producing more music for advertisements and jingles than what we do at present. As a band, the target over the next 2-4 years is to be touring across the world, playing our style of Indie Rock music. Also, writing new music is something we strive to do consistently. 15-20 years down the line, I would like to take immense pride in having 10-15 albums to showcase. That vision, sort of inspires me as an artist.
Would you like to share experience about life before and after your debut album 'Khoj'?
Before forming Antariksh in 2012, I had been a part of the Indie music scenario for almost 5-7 years during my college days. Despite being well networked and my best efforts in trying to approach all the relevant people, we had a really hard time getting gigs for Antariksh in the first year. That is when we decided to record a full-length album, try and make a mark and then make a foray into the world of live concerts. We shut ourselves down and locked ourselves at the studio for 3-4 months and put together our first album, 'Khoj'. You will not believe, even when we put out Khoj in September 2013, nothing changed dramatically for the next 5 months. We were completely stunned and I had lost all hope of this working out as we gave our best shot. But as fate would have it, just when I was about to quit, we started getting gigs left, right and center out of nowhere to the extent that we eventually recovered all our investments thus far within a period of 3 to 4 months. In hindsight, it appears a lot easier; I perceive it in a different light and make sense of it. Now when I look back, I think of that torrid time as the gestation period. Thankfully, here we are, growing consistently ever since. So, yes precisely life before and after Khoj has been immensely dissimilar.
What are your current projects?
We are currently spending most of our time at Quarter Note Studios mixing our second studio album. The first single 'Kaahe Re' off the new album came out last year. Currently, we are working to release a new single, 'Jee Le Zara' on September 2019, followed by a couple more singles in November and December. We are also shooting a music video for Jee Le Zara. So lots of new music and exciting times ahead awaits us
If ''Antariksh' could change anything about the Indian Music Industry, what would that be?'
One thing I would strongly want to bring in the Indian Music Industry is Meritocracy. I know it is a tough ask and any art form also comes along with a lot of subjectivity. However, I still feel that similar to so many other organized industries, the music industry can also have a stronger degree of Meritocracy. I envision a scenario where content is the true king and where musicians and bands are striving hard to create the best music instead of striving hard to be good at networking and marketing themselves. At present, it is a lot more about business, networking and marketing than making decent- quality unsullied music.
Editor's Note:
So esteemed readers, if you are ready, read along with us. We have an incredibly impressive tale of 'Antariksh' to tell you. The' never-give up' attitude of band's founder 'Varun Rajput' serves a perfect examplar for all those aspirant musicians and singers who dare to dream big. I am grateful to him for taking out time to share his inspirational journey and for his utmost co-operation despite such a hectic schedule. His phenomenal journey, in fact, reminded me of this brilliant quote, 'When you get into a tight place and everything goes against you, till it seems as though you could not hang on a minute longer, never give up then, for that is just the place and time that the tide will turn.'
About the Editor:
A Copywriter, an Image Architect, an Apparel Designer, a Brand Strategist, Hiranshi Mehta is National Creative Head with 'TheNationalTv'. Her epistemophilic personality epitomizes her winning personality traits. Outside her professional life, she has a distinctive vantage on world talents and the concept of altruism, the conventional underpinnings of diverse shades of life and of course the creative prowess to blend it all together.
About the CEO:
An Educationist, an Entrepreneur, a Visionary Leader, but above all, a remarkable sophophile, Mr Sunil Sharma's aptitude is not new but it has been discounted as many people fail to appreciate his larger-than-life vision. Nevertheless, he believes in being a trailblazer in the milieu of initiating revolutions in a country that is eager to embrace the vivid cultural and social transformations to make its presence felt on the world's map.
We'd love to hear your thoughts.
Find us on Twitter: https://twitter.com/TheNationalTV
Facebook: https://facebook.com/TheNationalTVofficial/
Instagram: https://www.instagram.com/thenationaltvglobal/
Linkedin: https://www.linkedin.com/company/thenationaltv/
or write into info@thenationaltv.com