Article
There Is No Love Without Forgiveness!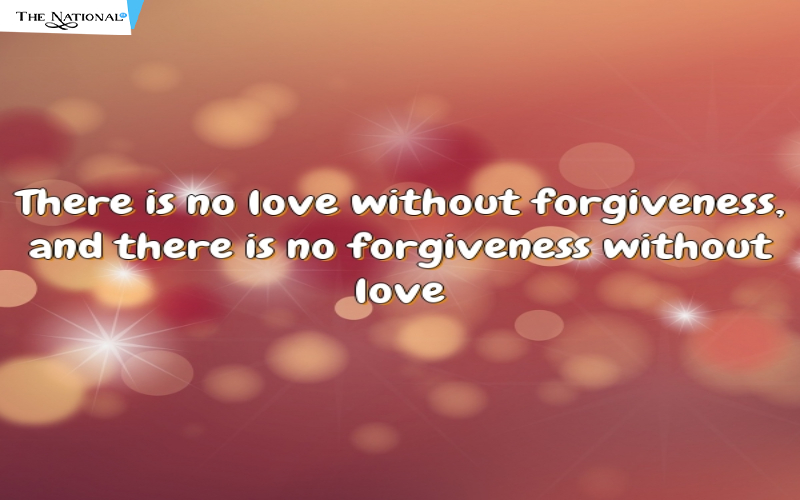 Forgiveness simply means loving someone enough to pursue healing instead of punishment when they have wronged you. Never forget the three powerful resources you always have available to you are love, prayer, and forgiveness. It takes a strong person to say sorry and an even stronger person to forgive. Forgiveness doesn't excuse their behavior, forgiveness prevents their behavior from destroying your heart. There is a nobility in compassion, a grace in forgiveness. Good to forgive, best to Forgiveness is not always easy. At times, it feels more painful than the wound we suffered, to forgive the one that inflicted it. And yet, there is no peace without forgiveness. Sometimes you forgive people simply because you still want them in your life. Don't be anger please forgive others, then you may feel happy and your anger will be removed.
Forgiveness and letting go are steps on your road back to happiness. The more you know yourself, the more you forgive yourself. Forgiveness is a virtue of the brave. When a deep injury is done to us, we never heal until we forgive. Forgive others as quickly as you expect God to forgive you. Forgiveness is an act of will and the will can function regardless of the temperature of the heart. Forgiveness is a powerful weapon. One of the most powerful emotion that has to be expressed is forgiveness. To forgive is the highest, most beautiful form of love. In return, you will receive untold peace and happiness. There is no love without forgiveness and there is no forgiveness without love. Forgiveness is not something we do for other people. It's something we do for ourselves to move on. Forgive each other as Christ has forgiven you. We forgive as long as we love it. Finally, forgiveness is the best form of love. So forgive each other.
Read More Latest Bollywood Movie Reviews & News
Read More Sports News, Cricket News
Read More Wonderful Articles on Life, Health and more
Read More Latest Mobile, Laptop News & Review