Article
Mother India: The birth on Road | Lockdown | Pandemic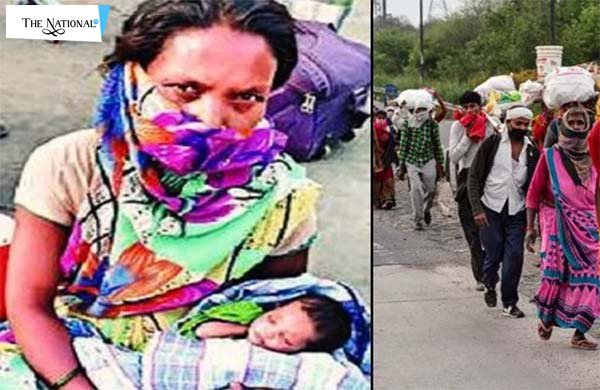 The whole country was locked down and it was another day for Shakuntla to walk for hundreds of kilometers to ensure a better place for her delivery in her home town. She decided to walk with her nine-month baby bump from Nasik to Satna which is 1000kms far. She traveled for 70kms when she realized that it's the time when her baby can't wait anymore to reach their native town and has decided to come out of the womb. After her 70km long walk with all the pain, anxiety, and fatigue, she delivered the baby on the road with the help of four other female companions. She rested for around two hours and didn't lose her desire to march ahead. Therefore, after a couple of hours of her delivery, she again started to walk along with other companions.
When they started the journey, nobody knew that they will march with an additional member to the hometown. But this happened with Shakuntla. When they reached Bijasan town on Maharashtra-MP border then a police inspector noticed a small baby in her arms and a little barefooted girl standing alongside. With this view she got stunned. Kavita Kanesh, the police check-post in-charge told media, "I saw a woman holding a newborn and went to check if she needed assistance." The police team was completely startled to know Shakuntla's nightmare of giving birth which is usually a dream of every woman. But for her, this became the plight of giving birth.
Shakuntla is the real Mother of India because she not only gave birth but also traveled for another 160kms when she met Kavita at Bijasan. One could get goosebumps by just knowing to walk for 160kms and this story where a woman has traveled with a small baby in the arm is above extraordinary. Whenever a woman conceives, it's suggested to give her all possible comfort but this lockdown neither gave her comfort nor the happiness of giving birth. This pandemic has already shown her the worst and made her epitome of what motherhood is all about and how circumstances have brought the worst times for rural India and the ones living in poor conditions.
Shakuntla's husband, Rakesh Koul thanked a Sikh family who gave clothes and essentials to newborn babies at Dhule and expressed his gratitude towards them. Not only for Shakuntla, but these were also the worst of times for the whole of her family. Rakesh told media that after lockdown they lost their work and had nothing to eat. There were only two ways, either to march home or to die in hunger. Therefore they marched till Bijasan where they finally received assistance from the administration. This is not a story of helplessness rather it is the reality of poor and rural in India. It depicts that how haunted this lockdown became for the migrants and the poor.
Read More Latest Bollywood Movie Reviews & News
Read More Sports News, Cricket News
Read More Wonderful Articles on Life, Health and more
Read More Latest Mobile, Laptop News & Review