Article
Grounds For Divorce Under Hindu Marriage Act, 1955 | The National TV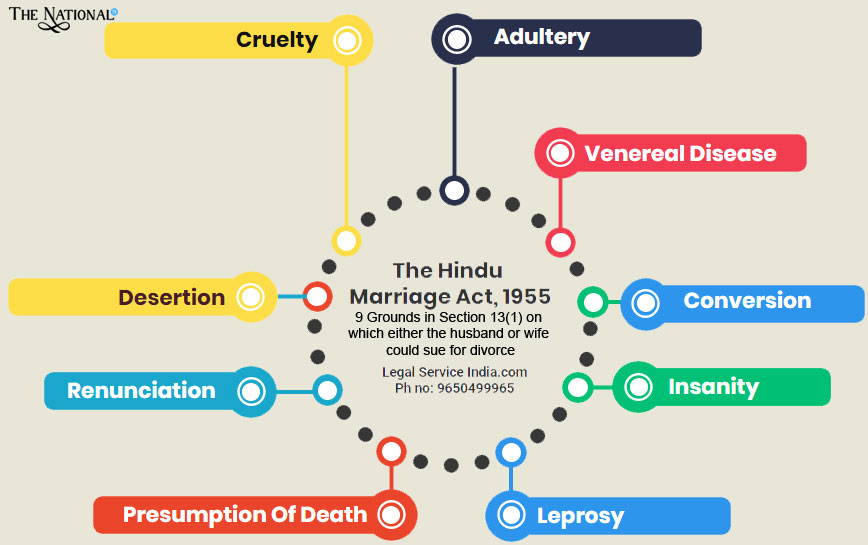 Grounds for divorce under the Hindu Marriage Act
Introduction-
Divorces are emerging as the most common evil in the present society. Divorce rates are increasing at an alarming rate in the present generation and have become quite common. Divorce may happen for many reasons; such stoic and common grounds are provided under section 13 of the Hindu Marriage Act 1955.
Section 13 of the Hindu Marriage Act states 9 grounds on which a party can file a petition for divorce. Such grounds are-
Adultery – where after solemnization of the marriage, the partner voluntarily has sexual intercourse with another person outside the wedlock.
Cruelty – it can be divided into 2 types: Physical cruelty- which is actually hitting or physical injury done to the partner. Mental cruelty- infliction of such mental agony on the partner that it becomes impossible for partners to live together.
3. Desertion- where the party has deserted the petitioner for a continuous period of 2 years and immediately after completion of 2 years petitioner presented the petition. Desertion means desertion of the petitioner without any reasonable cause.
4. Apostacy- Or has changed his religion of Hinduism and has converted to another religion.
5. Insanity – or the partner has become of unsound mind which is incurable or has been suffering from mental disorder of such kind that petitioner cannot reasonably be expected to live the respondent. Mental disorder means mental illness, schizophrenia, or psychopathic disorder or incomplete development of mind.
6. Leprosy – The petitioner has to prove that respondent is suffering from a malignant or extreme type of incurable leprosy.
7.Venereal disease – a disease that is communicable in nature and might affect the petitioner.
8. Renunciation of world or civil death- where a person has renounced the world or entered into any sect, or has become a sage.
9. Absence from 7 years- where a person was not heard as being alive for a period of 7 years and no one knows the whereabouts of the person.
In the case of Kausalya v. Wisakhiram, the court held that beating of a wife by the husband is physical cruelty.
In another case of Bhagat v. Bhagat, the Hon'ble Supreme Court defined mental cruelty, as the conduct of infliction of mental pain on the party, that it becomes unreasonable for parties to live together.
In the case of Pankaj Mahajan v. Dimple, the court held that repeated threats to commit suicide by the wife to husband amount to mental cruelty.
Parties to marriage may also present a petition for dissolution of marriage by a decree of divorce on the ground of—
1) Where a decree of judicial separation was already granted by the court and even after 1 year of such decree, no cohabitation was resumed between the parties.
2) No restitution of conjugal rights between parties for a period of 1 year.
A wife may also present a petition for dissolution of marriage under section 13(2) of the Hindu Marriage Act on the grounds like—
Pre- Act of polygamous marriage- in case of any marriage happened before coming of the Hindu Marriage Act 1955, or after it and such other wife was alive of the respondent at the time of marriage of petitioner to respondent or till the time petitioner wife, files a petition for divorce.
Un-natural offenses- since the solemnization of marriage husband has been found guilty of the crime of rape, sodomy or bestiality.
Nonresumption of cohabitation after the decree of maintenance- if the wife has obtained an order of maintenance under section 125 of Code of Criminal Procedure and under section 18 of Hindu Adoption and Maintenance Act still no cohabitation occurred between them for more then a year, the wife can file for divorce.
Repudiation of marriage- if the petitioner's wife was married off before the age of 15 years, she can repudiate marriage before she attains the age of 18 years.
These were the grounds for divorce on which petitioner can file a petition for repudiation of marriage. Divorce is the after and end-stage of the marriage before that court tries its very best to save a marriage, before moving forward with the proceedings of divorce it gives parties ample time to think as well suggest counseling for the parties.