Article
Future of Digital Marketing in India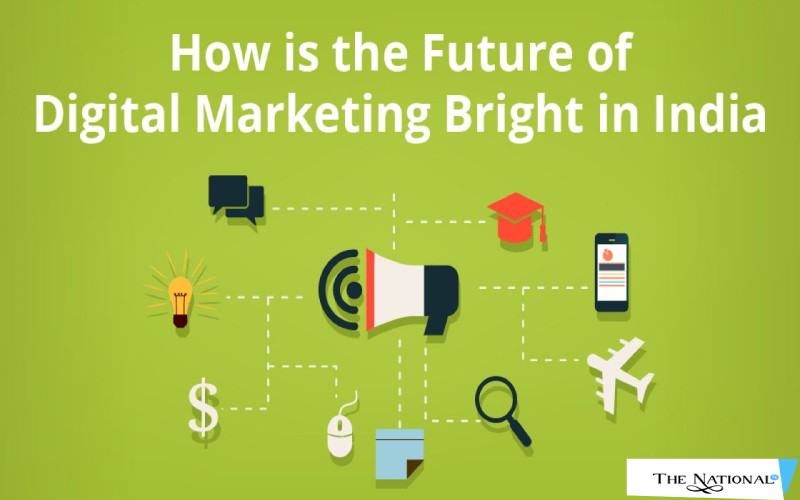 India, a densely populated country with a population of 1,339,180,127 (as of July 2017) ranks second in the world. There are ample opportunities that are created every minute for the people. And when we say digital marketing, then note that the future of digital marketing in India and the scope of digital marketing in the future is going to get brighter in the coming years. A mobile phone has become a basic need for everyone.
Even if your mother wants to try out a new recipe, she definitely uses YouTube to take the jot down what is needed and how it is to be done. And when it comes down to the business, no doubt the trend of digital marketing is on the boom. Everyone wants to market their products and services through the internet to increase the reach. Compared to traditional marketing these are some key benefits that make this marketing strategy more effective and affordable.
Today, almost everyone is online. With access to cheap data and affordable smartphones, the number of people across the globe who have access to the internet has increased exponentially. This means that if the companies want to connect with their potential customers, engage them, create brand awareness, and sell them some products or services, they can easily do it through online channels.
That is what Digital Marketing is all about. That is why you should learn about Digital Marketing. Businesses today leverage digital channels such as social media, search engines, email, and websites to connect with current and prospective customers.
The Growth of Digital Marketing
When we think of the key indicators of success in marketing, the first thing we think of is the number of people reached through marketing practices. The internet's penetration has reached outstanding numbers. Looking at India itself, it has the 2nd largest number of internet users in the world.
By 2023, the number of active Indian internet users will reach almost 666 million. So when companies see these numbers, they realize the importance of the internet as a channel of marketing. Online marketing is a cheaper method, with higher reach; this is extremely attractive to the companies as their aim is to connect with customers with the least amount of costs.
In light of the COVID-19 pandemic, businesses are relying on digital marketing now more than ever. According to GlobalData, the growth of the Indian e-commerce market is pushing to ₹7 trillion by 2023 due to the lockdowns. With every consumer locked down in their homes, all traditional marketing efforts are out of the question. Businesses that didn't even have a social media page, will now have to speed up their digital transformation and design a digital strategy to communicate with their audiences. Thus, the digital marketing scope in the future will not only thrive but also let businesses survive in the market.
The Future of Digital Marketing Jobs
The digital marketing career scope in the Indian internet industry alone is going to be worth $160 billion by 2025, according to a Goldman Sachs report, which is three times its current value. Many companies are shifting their focus from traditional marketing to digital marketing. In fact, digital advertising spends are set to reach Rs 25,000 crore in India by 2021, at a growth rate of more than 10.5%. This is going to lead to a situation where lakhs of jobs will be available in the digital marketing sector which includes social media marketing, content creation, and online retailing, online advertising.
Especially considering the current coronavirus crisis, the job market will increasingly focus on digital and technology skills as it will enable them to work remotely. Thus, companies are looking for people who are skilled to handle digital marketing jobs. This is seen specifically in a study done by Google and BCG, where India appears to be taking a progressive and more mature digital approach in marketing, ahead of many brands across APAC, Europe, and Latin America, with the most mature brands reporting significant benefits for digital marketing efforts.
In India, 67% of internet users will be under 35 by 2020 according to Statista and the total population in India under 35 is around 65%. This means, their biggest audience is this group and in order to reach them, they must enlist employees who are capable of doing so, which is the job of Digital Marketers.
Read More Latest Bollywood Movie Reviews & News
Read More Sports News, Cricket News
Read More Wonderful Articles on Life, Health and more
Read More Latest Mobile, Laptop News & Review