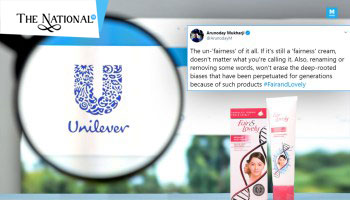 From years the cream was endorsing over the fact that fair is lovely and advertising that how becoming fair can make you reach the goals. But a long term criticism over this fact has finally brought Unilever's Indian subsidiary Hindustan Unilever to drop 'Fair' from 'Fair & Lovely' as part of its re-branding efforts. The announcement has come after the 'Black Lives Matter' movement that has united the world to end racism.
It is also believed that besides the word 'fair', the company will also drop 'whitening' and 'lightening' words from its packaging. The product is sold in many countries in Asia, namely India, Bangladesh, Indonesia, Thailand, Pakistan, to name a few.
This decision has been welcomed by people from all parts of the country as there is an Indian obsession over white skin which has made people encountered many societal taunts and asinine remarks for their natural color and skin type. However, this decision has come after the ongoing movement to end racism where many companies have realized their errors and now taking this time as an opportunity to rectify their mistakes.
Apart from Hindustan Unilever's decision, Johnson & Johnson also retreated from its skin whitening business last week which included Clean & Clear Fairness and the Neutrogena Fine Fairness brands in India. Also, Shaadi.com has removed its skin tone filter after receiving online backlash for promoting white tone skin. Fair & Lovely has been criticized a lot over the years for advertising fair complexion that was making people believe that it will make one an achiever in life. And, if your skin color is anything other than fair, then you need to work on yourself and your confidence.
It received lots of criticism and it is now finally when companies have realized their error and trying to bring a change.
Read More Latest Bollywood Movie Reviews & News
Read More Sports News, Cricket News
Read More Wonderful Articles on Life, Health and more
Read More Latest Mobile, Laptop News & Review