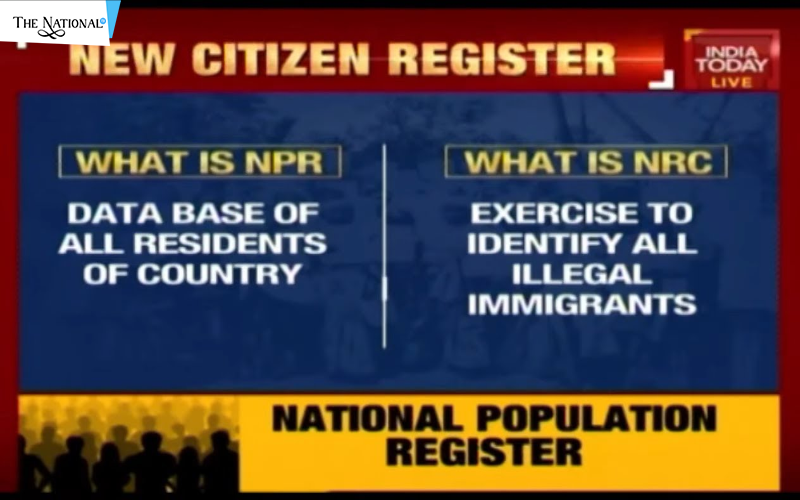 The government has announced the Census 2021 and preparation has started. the Union Cabinet has approved a proposal of the Home Ministry to spend Rs 8,754 crore for the Census 2021 and Rs 3,941 crore for updating the NPR. Ten states have already announced that they will not implement NPR, considered a stepping stone for the controversial National Register for Citizens (NRC).
What is NPR?
The NPR is a register of the usual residents of the country. It is mandatory for every usual resident of India to register in the NPR. It includes both Indian citizens as well as a foreign citizen. The objective of the NPR is to create a comprehensive identity database of every usual resident in the country. The first National Population Register was prepared in 2010 and updating this data was done during 2015 by conducting door to door survey. The next update of the NPR will take place next year from April to September with the House listing phase of the Census 2021. It is being prepared at the local (Village/sub-Town), sub-District, District, State and National level under provisions of the Citizenship Act 1955 and the Citizenship (Registration of Citizens and Issue of National Identity Cards) Rules, 2003.
Details required for NPR?
The demographic details of every individual are required for every usual resident on 21 points which includes 'date and place of birth of parents', last place of residence, Permanent Account Number (PAN), Aadhar ( on a voluntary basis), Voter ID card number, Driving License Number and Mobile Number.
What will happen if one's name is not in the NPR?
As NPR is a population register, name of every resident would be there. If it is not there, the person can apply with sub-district level registrar, a level above the local registrar. There is no appeal process against registrar's order in the NPR and this process is listed for NRC.
What is link between NPR and NRC?
Once NPR is completed, the Census commissioner would notify local registrar for creating a National Register of Citizens (NRC) of India. The registrar will seek information from individuals against whom remarks have been made in the NPR. They would be required to submit documents as sought by the registrar. The Census commission will remove the names of non-citizens for having a national NRC. A person declared as non-citizen can appeal with a "designated authority" within 30 days of the Census commissioner's order.
Benefits of NPR
Information and Broadcasting minister Prakash Javadekar said that NPR will help in better implementation of the government schemes as identification of beneficiaries using the NPR data would become easier. The NPR also lists the deprivation levels of individual households in the country. Many state governments use NPR data collected in 2015 to disburse government benefits.
Read More Latest Bollywood Movie Reviews & News
Read More Sports News, Cricket News
Read More Wonderful Articles on Life, Health and more
Read More Latest Mobile, Laptop News & Review