Politics
ACTOR TURNED BJP CANDIDATE: SUNNY DEOL FILES NOMINATION FROM GURDASPUR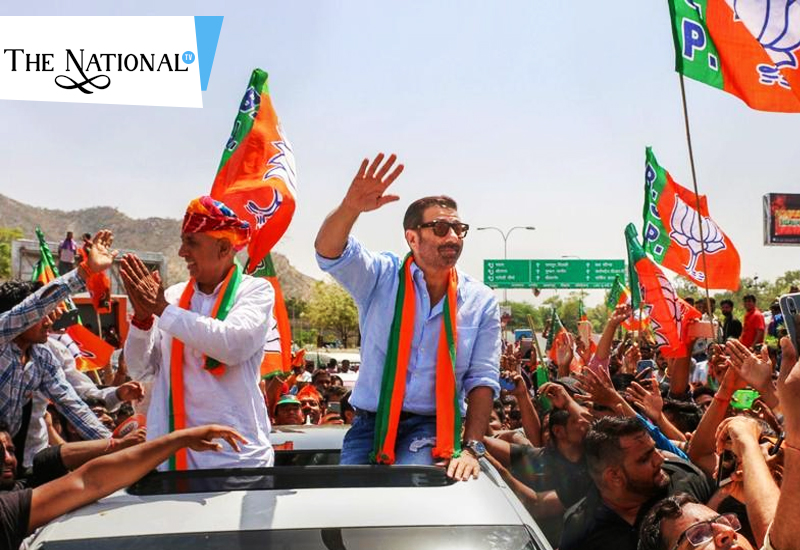 The 'Filmy-Fauzi' Sunny Deol, had recently turned into a BJP candidate. Recently he has filed his nomination from the Gurdaspur constituency where he is going to face a tough competition form congress sitting MP Sunil Jakhar. the other opponents from the constituency are the AAP's Peter Masih and PDA's Lal Chand.
Sunny Deol,62 before moving towards the filing the nomination offered his prayers at the Golden Temple which was 75 km away from Gurdaspur. He was accompanied by the Punjab BJP chief and Rajya Sabha Member Of Parliament Shwait Malik and Haryana finance minister and party's election in-charge of Punjab Captain Abhimanyu and Akali leader Gurbachan Singh Babehali.
Dressed in a blue turban and blue shirt, a Sikh himself, Mr Deol entered the shrine with supporters and offered his prayers at the 'Harmandir Sahib', the sanctum sanctorum.
After his filing of nomination, the supportive father and the veteran actor Dharmendra has tweeted supporting his son's win and have made a speech towards the audience referring to support the actor. The younger brother Bobby Deol is also huge support at this point.
Dharmendra on this eve tweeted, "We seek your support…Support us…it will be your victory. It (victory) will be of brothers or sisters of my Punjab. It (victory) will of India's beautiful part of Gurdaspur".
On Sunday, he had met the Prime Minister Of India, Narendra Modi and after the meet, Shri. Modi has=d tweeted a photo together with a caption. "What struck me about @iamsunnydeol is his humility and deep passion for a better India. Happy to have met him today. We are all rooting for his victory in Gurdaspur! We both agree- हिन्दुस्तान जिंदाबाद था, है, और रहेगा!".
Earlier to the joining of Sunny Deol, this constituency was ruled from BJP by Vinod Khanna who had consecutively won here for the four times. Now its time to wait and watch whether Mr Deol continues the legacy or not.
Join Us on Youtube: Subscribe Our Channel Now