News
Salman Rushdie And Margaret Atwood Get Shortlisted At Booker Prize, 2019!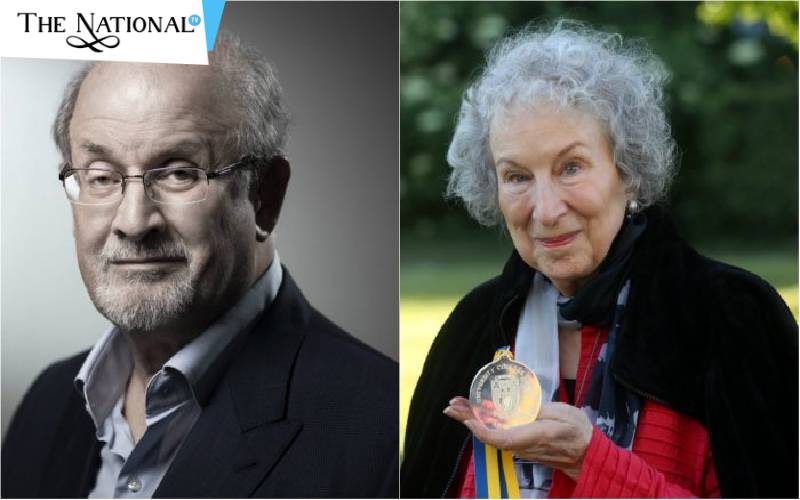 Alongside Four Women, Two Men Are There In The List
The shortlist for the Booker Prize 2019 has been announced and it contains six books. The four women in the list are joined by two men. Margaret Atwood, the previous trophy holder is there as well. The names of other women include Lucy Ellmann, Bernardine Evaristo, and Elif Shafak. The two men are Chigozie Obioma and Salman Rushdie who is the previous winner as well. Their respective countries include Canada, India, Nigeria, Turkey, And UK. The winner gets €50, 000.
Full List Here
The Testaments, Margaret Atwood

Ducks, Lucy Ellmann

Girl, Woman, Other, Bernardine Evaristo

An Orchestra of Minorities, Chigozie Obioma

Quichotte, Salman Rushdie

10 Minutes 38 seconds in This Strange World, Elif Shafak
The jury consists of Peter Florence, Afua Hirsch, Liz Calder, Xialou Guo, and Joanna MacGregor.
To quote Florence, "The common thread is our admiration for the extraordinary ambition of each book. There is an abundance of political and cultural engagement. Like all great literature, these books term with life with profound and celebratory humanity."
Atwood And Rushdie Are The Previous Winners
Atwood has won the award in 2000 and was shortlisted in 1986, 1989,1996 and 2000. Rushdie won it in 1986.
A Bit More About Atwood
Three female characters narrate the follow up of Atwood. She won the prize for The Blind Assassin Before. Florence describes it to be "a savage novel that speaks with conviction."
A Bit More About Rushdie
Rushdie won the prize for Midnight's Children before. He made the shortlist in 1983,1988 and 1995. Quichotte is inspired by Don Quixote's Miguel de Cervantes. It speaks about a salesman driving across America. He tries to prove himself worthy of a TV star's hand.
The Satanic Verses (1988) is his best novel.
We Can Just Sit And Wait For The Results
Now we need to have our fingers crossed. We can wait and see who grabs this prestigious honor. The winner to be declared in October.