Health
Microcytic hypochromic anemia can be caused by lead toxicity disease, thalassemia, and hemoglobin E disorder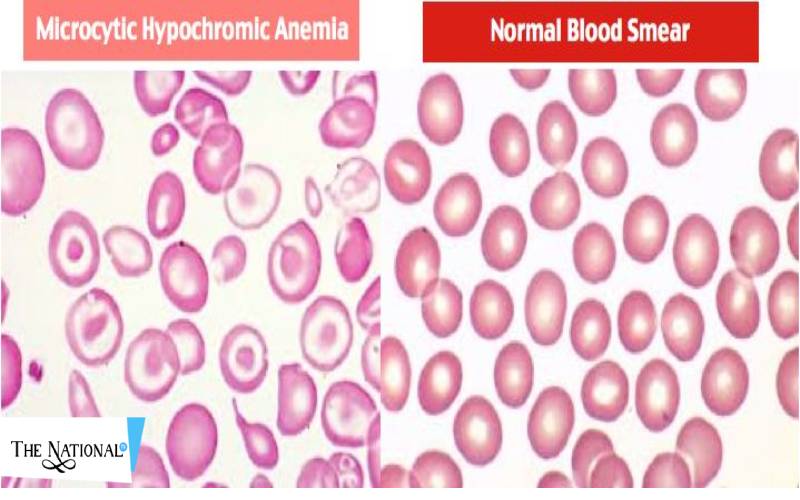 Microcytic hypochromic anemia can be caused by lead toxicity disease, thalassemia, and hemoglobin E disorder. Iron deficiency is the most common cause of microcytic hypochromic anemia. Ferritin blood levels are a measure of the body's stores of iron and are usually low in iron deficiency anemia.
Symptoms of

Microcytic hypochromic anemia
1.fatigue, weakness, and tiredness
2.loss of stamina
3.shortness of breath
4.dizziness
5.pale skin
Cause:
The most common causes of microcytosis are iron deficiency anemia and thalassemia trait. Other diagnoses to consider include anemia of chronic disease, lead toxicity, and sideroblastic anemia.
How to detect it: Microcytic anemia is defined as the presence of small, often hypochromic, red blood cells in a peripheral blood smear and is usually characterized by a low MCV(less than 8 microns 3). Iron deficiency is a common cause of microcytic anemia.
Foods to your diet:
1.leafy greens,
2.Meat and poultry
3.Liver
4. Seafood
5.Beans
6.Nuts and Seeds
7.Fortified foods, etc.
Preventing microcytic anemia :
The best way to prevent microcytic anemia is to get enough iron in your diet. Increasing your vitamin C intake can also help your body absorb more iron. You can also consider taking a daily iron supplement. These are often recommended if you already have anemia. You should always talk to your doctor before you start taking any supplements.