Health
7 Ways to Make Yourself Happier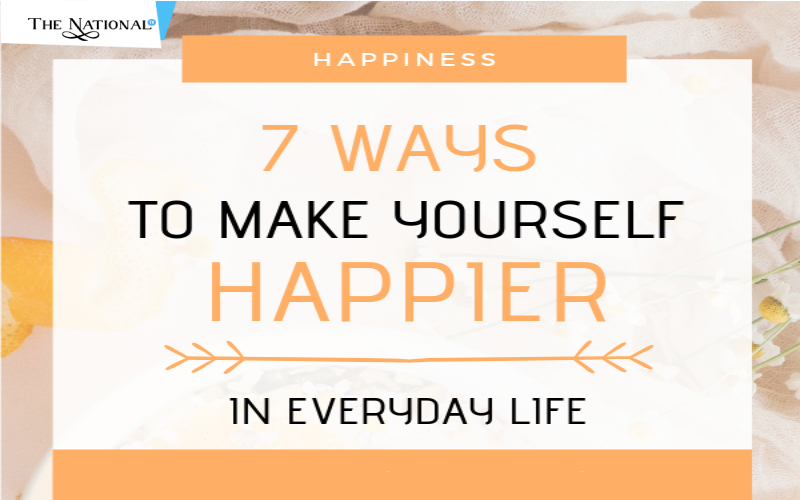 Feeling that comes over you when you know life is good, and you can't help but smile. It is a sense of joy or enjoying their life when people are successful or lucky or safe, and they feel happiness. Different situations of different opportunities can help to create happiness. So, there are some reasons to make you happier:
1. Do your interesting works: The best way to make yourself happy is to do your exciting jobs. The books which you like to do yourself/own minded interest work can help to make you more comfortable. At first, listen to yourself or talk to yourself; it can help you to get your ideas and thoughts, which can help to generate ideas and a new concept of work. After that, when you get ideas, you have interested in doing that work, and you can do that work which you are interested in doing.
2. Smile: Everyone saying 'smile is the best medicine.' so keep the smile for a happy life. Many people think of happiness as something that comes from the inside out from your mind to your behavior. It depends on your mindset, what kind of mood you have made, that type of behavioral condition you can get, just like if you make failure or loose mindset, you feel like you are lagging in life. If you make a win or challenging mindset, you feel like you win every step of life and feel happier.
3. Good Relationships: Happy people don't spend more time alone. They spend most of their time with their family and friends Talking to them and enjoying their daily basis time to them. They are your's supporters and accompanist. ''spend most of the time alone is most dangerous because negative thought and perilous mind activity be active". So, good relationships between family and friends are essential.
4. Exercise: To reduce stress level, fatness or provide energy on body exercise is essential. It gives power to the body, which helps to release hormones to do physical exertion. After when your physical body is active, your mindset became positive, and after that, you feel happy. Exercise can help to control your blood pressure and improve your digestive system. Morning exercise is most beneficial, which refreshes your body and the whole active day.
5. Get enough rest: To get reduce from stress, anxiety, and pains, you need to get enough rest. Many of us are suffering from sleep deprivation, which can lead to a higher level of stress and edginess. It is interrelated to each other. Enough rest-reduce from stress/tension-makes you happier.
6. Don't compare yourself to others: Please do not compare yourself with others; it is the primary way to make you sad. Never think that what others are doing, but if you work hard, you will get what you want.
7. Eat healthier foods: If you spend your time eating oily foods, fast foods, package after package foods like noodles, canned foods, and drinks caused health problems. You can eat foods which are beneficial for your health. Health food makes your happy life.
Read More Latest Bollywood Movie Reviews & News
Read More Sports News, Cricket News
Read More Wonderful Articles on Life, Health and more
Read More Latest Mobile, Laptop News & Review