Environment
World Environment Day : Today, Tomorrow, Everyday!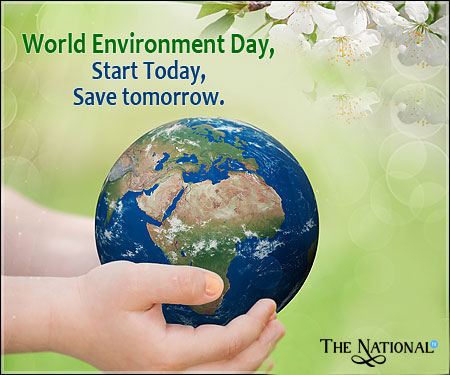 World environment day is celebrated on 5th June every year. People celebrate this day by performing different kinds of environmental practices like planting saplings in open areas. Keeping nature clean and green should not be just confined to a particular date, it needs to be practiced daily. As it is nature which keeps the balance between the creatures of this planet and the surrounding we live in, we should be obliged for everything nature has given us. We are so used to living in tall buildings, that we have little or no idea of what fresh air and greenery feels like. In this era of technology and urbanization, it becomes tough to find a proper place to plant a seed so the convenient way is to have a pot of plants in our houses.
I believe that every house should keep a number of different types of plants and observe the difference. It optimizes our living style and body receptors, we automatically start feeling fresh and happier than before. Every year people celebrate World environment day in the woods or planting trees, some even spread awareness of the importance of nature but this year due to COVID-19, a celebration might be a bit different. People will avoid gathering at one place to plant trees and may take other precautionary steps too, to maintain distance. Besides the fact that lockdown has affected a lot of common day to day habits like meeting friends and people and even social or religious gatherings, people still find out different ways to celebrate every occasion one way or the other.
So on this World environment day, it is better to plant a tree in a nearby open area or maybe a little plant at home. Nature has been serving us in every form for millions of years. One should learn to respect the norms of nature otherwise the consequences are real and serious. The existence of each organism on this planet is only due to the fact that nature has allowed us to be. Until and unless we keep our earth green, alive, and healthy, its the human being who will have to face the repercussions. COVID-19 is the proof that we have been taking nature for granted and we have been fiddling with the laws of nature. Now that we are complaining of daily life problems due to this virus, but this virus might be just a trailer to the upcoming full movie. We need to learn to respect and love nature and our mother earth. Today's one step towards a small change will bring the next 100 healthy and happy days.
Read More Latest Bollywood Movie Reviews & News
Read More Sports News, Cricket News
Read More Wonderful Articles on Life, Health and more
Read More Latest Mobile, Laptop News & Review