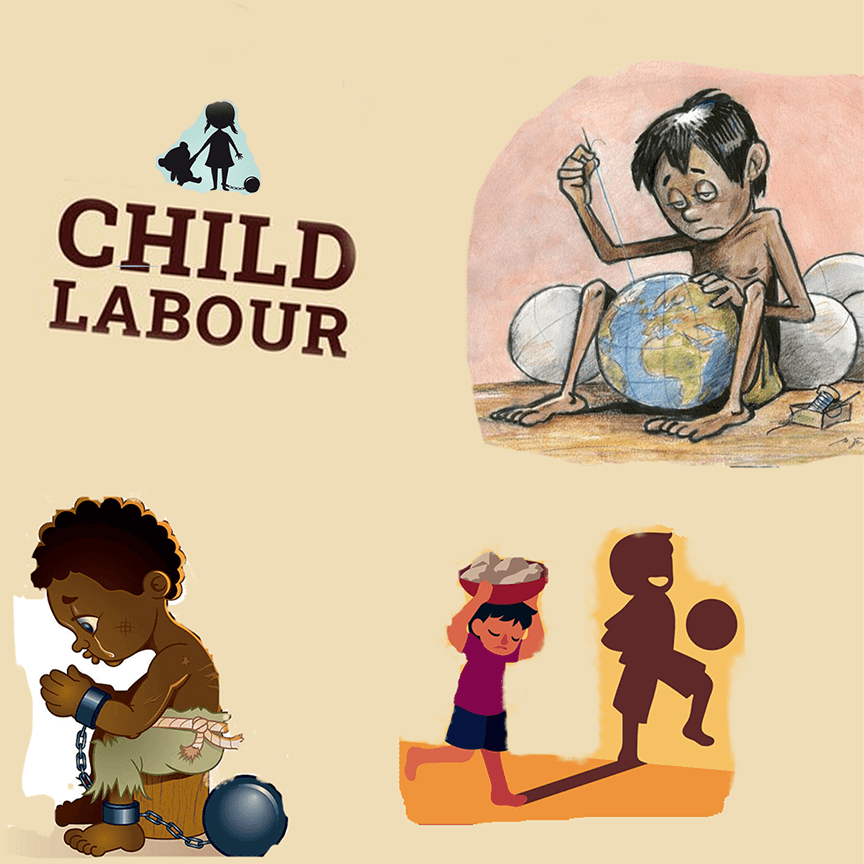 India is a democratic country and a welfare State and yet its children have no security and safety. The sons and daughters of millions of Indian living under the poverty line in the age group of 5 and 14 are forced to spend a very miserable existence. There is no social security for them as their parents cannot afford to send them to schools.
They are subject to various types of exploitation and abuses. There are estimated to be over 11 million child-workers. They are forced to labour hard and for long hours in mills, factories, fields, farms and houses are domestic servants. They have to work in very trying,unhealthy and sometimes dangerous conditions.
They belong to the age group of 5 and 14 years and hardly know what is childhood and boyhood and it's fun and enjoyments. Of the estimated eleven million child labour , six million are males and five million are female. Of this total strength of child-workers,80 percent has been categorized as main workers and the rest as marginal workers.
These children, who have only one childhood, are obliged to work as labourers in match, knot-wear, silk, carpet, sports, goods, construction ,fireworks, bangles, glass and such other labour intensive industries. They are also engaged as bidi rollers,brick-in industries. There is utter lack of social awareness and accountability in the matter.
The international code of conduct on minimum labour standards is not being implemented in our country. Actually every person under 18 tests of age unless, under the law applicable to the child,majority is attained earlier, is a child. According to the Convention of the Rights of Child of 1980,every child has the right to an adequate standard of living and social security. He or she had the right to education.
They have the right to protection against any kind of exploitation. They are entitled to protection from involvement in the illicit production,trafficking and use of narcotic drugs,protection from sexual exploitation and abuse. Children should be respected,their fights restored and their voices heard. They should be rescued from all types of labour and exploitation.
Boycott of goods produced with child-labour can be one of the effective weapons of fight against child-abuse Corporate houses,companies and business firms should come forward and adopt schools and see that children are given education in a healthy and comduvtibebrnvirkent.
They should be helped economically. There can be more liberal scholarships, mid day meals,free distribution of books, stationary and other educational material. To remove child labour India needs to invest on a massive scale in education, employment,poverty alleviation and industrialisation.
The liberalisation and opening up of Indian economy will go a long way in improving the living standards of the people by creating more job opportunities at middle and lower levels. It will help in reducing the child labour and their explotation. They should be made to feel really secure and state and,of course, we should spend twice as much on primary education and make it immediately free, compulsory and universal.