Article
Rights and Liabilities Of Buyer & Seller Under Transfer Of Property Act | The National TV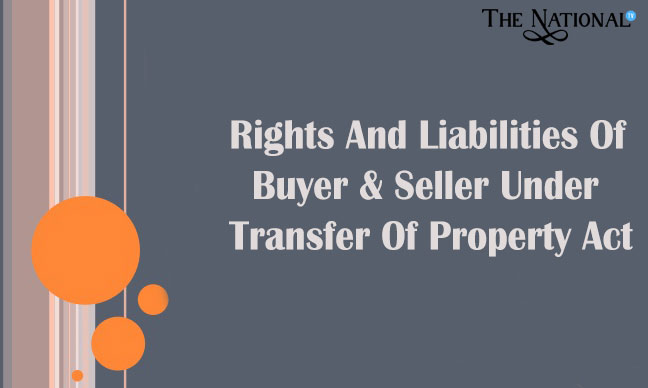 Rights and liabilities of buyer and seller under transfer of property act.
Introduction-
Property can be transferred through many modes that is sale, mortgage, lease, gift, exchange etc. Sale under section 54 of transfer of property Act states that sale is a transfer of ownership in exchange for a price which is paid in lieu of transfer of ownership or which is promised to pay or price which is partly paid and partly promised to pay to the transferor.
Section 55 of the Act, mentions rights and liabilities of buyer and seller in immoveable property. In the absence of a contract to contrary, buyer and seller of property are subject to liabilities and have some rights.
Liabilities of buyer are: -
According to Section 55 liability to disclose any fact as to nature or extent of selling interest in property, which seller does not know and which materially increases value of interest.

Liability of payment of purchase money to tender, purchase money to seller; buyer may retain encumbrancers out of purchase money if property sold free and retain it to persons entitled.

Liability to bear damages- buyer to bear any loss to property not caused by seller when buyer has ownership.

Liability to pay due amount- buyer to pay all payable public charges, rent and encumbrances.
Rights of buyer: -
Right to get benefits, rents- buyer has right to get benefits arising from property.

Right to get interest- buyer will get interest or any kind of charge on property unless, he has declined.
Liabilities of seller: -
Seller is bound to reveal material defect of which buyer could not be aware of.

Seller to submit all the documents related to property, to buyer on his request.

Seller to answer as to best of information of all the relevant questions, related to title.

Seller to execute proper conveyance on payment of price of property.

It is seller's duty to take care of property and all related documents.

It is the duty of seller to deliver such possession of property as the nature of property requires.

It becomes duty of seller to pay all the encumbrances or public charges or rent on property.
Rights of sellers: -
Seller's right is to get rent and profits from the property.

It is seller's right to get interest on unpaid buying money where ownership of property passed to buyer before payment of whole purchase money.
Hence, a sale of an immoveable property between competent parties is executed by a registered instrument for a consideration in the form of money which is paid, part paid, promised or partly promised. There are several rights and liabilities of the buyer and the seller resulting from the sale of immoveable property.
Read More Latest Bollywood Movie Reviews & News
Read More Sports News, Cricket News
Read More Wonderful Articles on Life, Health and more
Read More Latest Mobile, Laptop News & Review