Politics
Why Two young female MPs trolled for posing infront of Parliament?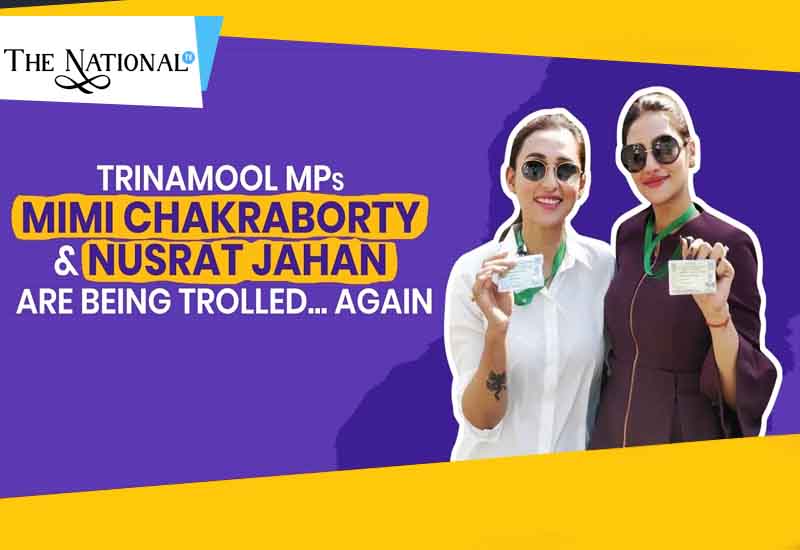 One of the two young MPs Mimi Chakraborty and Nusrat Jahan were trolled mercilessly for "posing" outside Parliament and wearing "western" outfits. The duo posted a picture online with their identity cards with caption "new beginnings" which didn't go well with netizens who trolled them on their appearance calling "inappropriate" and them being "irresponsible". However,a lot of people came out in support of the actor turned politicians calling out the hypocrisy of people in judging what should a woman wear or not wear at work and overlooking on politicians who don't even care to attend the meetings. Mimi's manager, Rudradeep Banerjee clarified that she does not want to give much importance to such trolls.
Both of the Trinamool Congress (TMC) candidates have won by huge margins from Jadavpur and Basirhat Lok Sabha constituency respectively in West Bengal. The hypocrisy of people in judging the women politicians' intellect by their appearance is quite evident as recently Priyanka Gandhi was also trolled apparently for wearing "western" outfit rather than a saree.What clearly can be seen is the "sexist" nature of Indian society how find it hard to swallow that two young females being unapologetically confident about their stand in politics managed to win and get to the Parliament.Ever since the duo's candidature had been announced, they have been subjected to trolling and hateful,indecent remarks on the Internet. Disrespectful,memes and jokes, tiktok videos has flooded social media.
Interestingly despite the trolling for having a "non-political" background they won with huge majority from their respective constituencies. Jahan won by a margin of nearly 3.50 lakh votes while Chakraborty won by roughly 2.95 lakh votes against others. The controversy surrounding their win fuelled when the two reached Parliament yesterday and posed infront of the Parliament.
Of course, the unconventional "young" female politicians don't seem to fit into the idea of what Indians and especially Bengalis have what MPs should look like.The trolls were teaching them "this is not your work", "this is not a place for tik tok." India is known to be a young country as more than 50% of population below age 25.The hypocrisy of people asking for representation of "young" generation in the government and at the same time schooling the MPs is quite evident.
Read More Latest Bollywood Movie Reviews & News
Read More Sports News, Cricket News
Read More Wonderful Articles on Life, Health and more
Read More Latest Mobile, Laptop News & Review
-----------------------------------------------------
Today's Trending Videos
Join Us on Youtube: Subscribe Our Channel Now