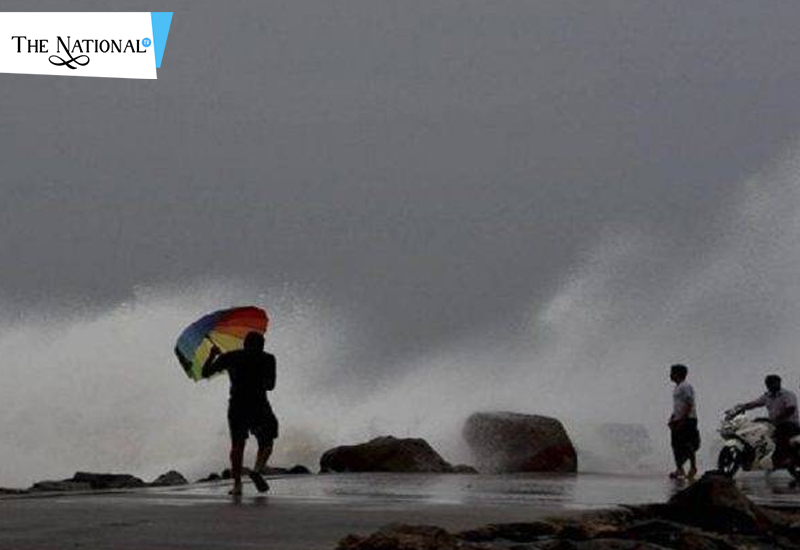 Gujarat today be hit by a '' very severe'' cyclone - Vayu. Almost 2.8 lakh people evacuated.

The authorities in Gujarat have moved 2.8 lakh people from the coastal regions to safe locations. The cyclone is to hit the coastline of Gujarat today at noon, and it is predicted to cause damage. Saurashtra coast will be encountering the cyclone today.
Vayu is being considered as the deadliest storm which killed 1,241 in 1998, hitting port towns of Kandla.
The cyclone will be bringing the winds blowing with the speed of 155-165 kmph, which can also hype to 180kmph. The storm will be moving with a speed of 16 kmph. Vayu will gust through Dwarka and Porbandar, West of Nerval at around 3pm today.

Recently 5 people died in Dang, Tapi, and Narmada district because of the lightning strikes on late evening of this Tuesday.
The areas which are expected to get damaged the most includes - Amreli, Porbandar, Devbhoomi Dwarka, Junagadh, Gir-Somnath, Jamnagar and Kutch.

Vayu will be floating in the state for four days starting today till 15th June, and then it will move northwards.
To minimise the damage of life and property, the State and Central agencies are working against the clock. Special buses were entitled to move out 10,000 tourists and pilgrims from Dwarka, Porbandar, and Somnath. Also 2.8 lakh people were shifted from 500 different coastal regions too much safer areas.
PGVCL Paschim Gujarat Vij company ltd. - a state run, has made a team of 634 personals who will mending the polls as soon as possible which will get damaged during the storm.

Airport Authority of India AAI, have suspended every operation on 5 airports which includes - Porbandar, Diu, Bhavnagar, Keshod and Kandla

AAI have also reached to Air Force asking to put halt on every civil flight from Bhuj and Jamnagar. The authorities are yet to decide about Surat's.