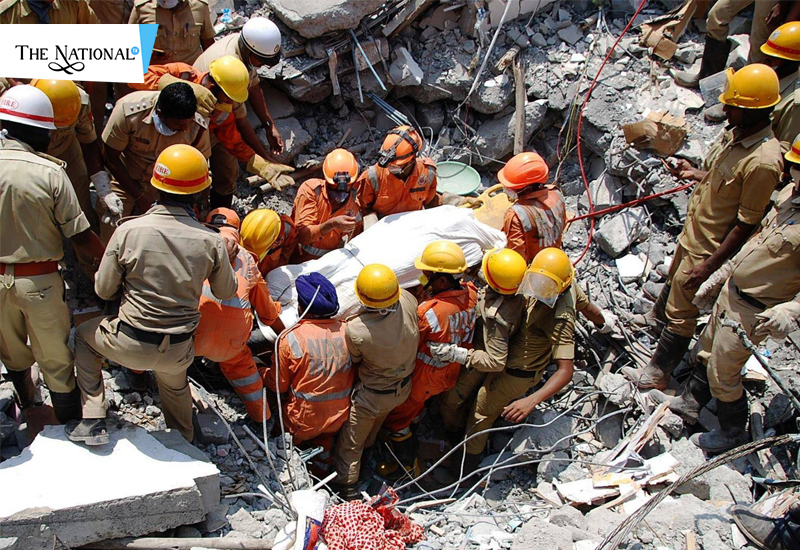 A four-decade-old, four-storey building collapsed in Dongri area of Mumbai. Death of 14 people has been announced till yet. 9 out of which 2 are children have been safely rescued from the wreck of a building.Three units of the NDRF National Disaster Response Force, teamed up with the residents of the area worked throughout the night on the rescuing operation. The site is crashed with blocks of concrete and bricks which are worked out by power tools. Several other buildings in the neighborhood are too at the edge of collapsing.
The help of heavy machines could not be reached earlier on Tuesday, as the lanes had dangling wires and the lanes were too narrow. Adding to which the area has been flooded because of the heavy rainfall in
last few weeks.
Local people in the area have been giving out their best to help with the situation. They made out a human chain to get the smaller things out of the site. Using their bare hands they passed wooden blocks and bricks out.
"We have given permission to redevelop that area... We will know after investigation if the redevelopment initiative was delayed. Right now we are focusing on rescuing trapped people,"

Devendra Fadnavis, Maharashtra Chief Minister told reporters on Tuesday.
Adding to that, Mumbai Chief Minister announced that an amount of Rs. 50 Lakhs will be given to the families to lose someone in this accident and a sum of Rs. 50,000 to those who got injured. The medical expenses for treating the injured will be paid by the government.
The building which collapsed is dated back to 40 years. The four-decade-old building was standing next to a 100-year-old building, and both of them are illegal and not as safe as per the Maharashtra Housing and Area Development Authority. The older building is even tagged with the label of C-1 by Mumbai's civic body. The building needs urgent repairs and with every monsoon hitting it, the structure looks close to collapse.
The 40-year-old building which collapsed was also tagged with C-1 back in 2017. The label means that the building should be evacuated and demolished after the evacuation. Yet the building stood unaudited at all until it fell to its knees.