Interesting
The story of the Man who built the Tallest Cycle and his Journey towards Success!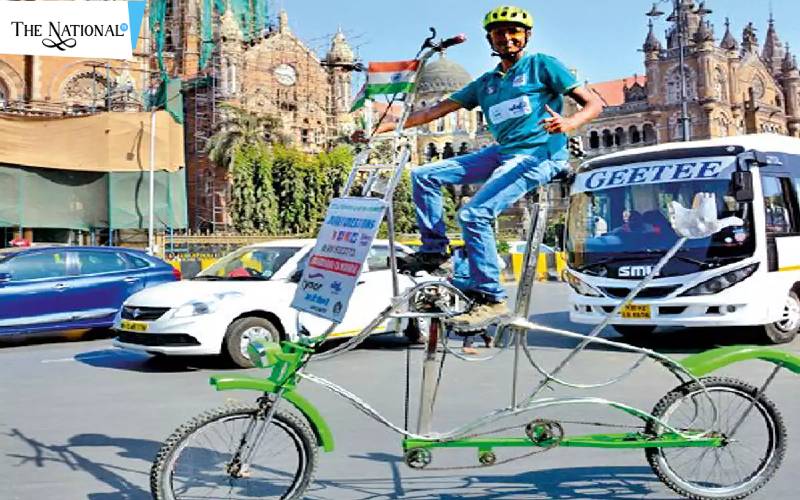 In life, we all have one goal set in mind and that is to do something new and different but this is not possible for everyone. For this one needs to have patience, honesty, and go through pain in order to achieve your goals. A 40-year-old man has proved this right with his invention. Whenever Rajeev Kumar goes out with his cycle the only words that come out of people are Oh My God!
About Rajeev Kumar Amazing Invention
It is no ordinary cycle that Rajeev drives as he himself has designed it and its height is about 9ft 6 inches. He is not an engineer but his will and circumstances were the reason behind the making of this cycle. It took him around 2 years to make this cycle and a cost of 1 Lakh rupees. The speed of the cycle is 20-25 kilometers per hour.
The reason behind this invention: The idea of making this cycle had come through Rajeev's mind at a very young age. He was the tallest student in his school and his legs were too huge for him to ride a bicycle. Rajeev used to adjust the seats to the highest level in order to ride it and that was when his interest in cycles grew.
He used to do some experiments at his uncle's shop and in the year 1995 he made his first-ever cycle. As he grew up he was determined to design a unique cycle of his own. He has designed a total of 5 cycles till now. In 2013, he designed an 8 ft 6-inch cycle with a 9.6-meter width. The seat of this 3 chained cycle can be adjusted up to 10 feet.
The records that Rajeev made: Rajeev not only drove this cycle around his city but he also drove it from Chandigarh to Ludhiana, Delhi, and Shimla. In 2001, Rajeev drove from Chandigarh to Delhi in 16 hours and later on from Shimla to Kalka in only 6 hours. In February 2019, Rajeev drove from Chandigarh to Mumbai which amounts to a total of 1654.8 kilometers only in 20 days.
Rajeev's creative invention has made its place in Limca book of records, India book of records and Unique world records. His next mission is to see his name on the Guinness world records and for that, he will ride from Kashmir to Kanyakumari in just 30 days.
As the heavy-weight of his current cycle was not fit to drive through the hilly areas, he has designed a new cycle that weighs only 25-30 kilos. Rajeev wants to inspire the youngsters with his mission so that at least one day in the week they will prefer to ride a cycle and contribute to the natures wellness.