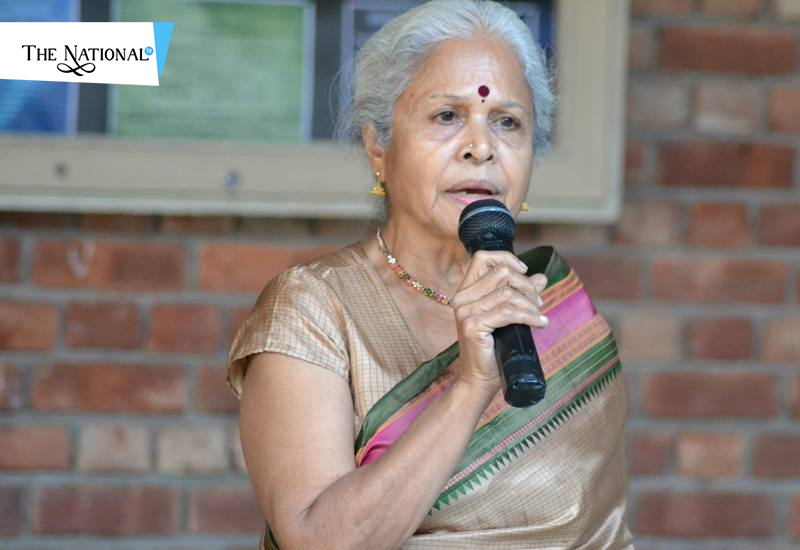 'TheNationalTV's Exclusive Interview'
Changemaker Of The Month: Campus Nani 'Prema Iyer'
'If I can stop one heart from breaking,
I shall not live in vain;
If I can ease one life the aching,
Or cool one pain,
Or help one fainting robin
Unto his nest again,
I shall not live in vain'.
These rhythmic yet thought-provoking words epitomize the sanguinity of the spirit of 'Prema Iyer'. She has emerged as a warrior by rising above all the setbacks that were thrown in her way. She managed to prove that amidst countless hardships, it is still possible to move forward.
In life, at some or the other point, we all are bound to encounter tough times. Ironically, we all are warriors and life is nothing but a never-ending battle but the difference lies in choosing to be an ordinary soul or a warrior soul. While a few surrenders to adversities, a few remain indulged in learning to endure until they overcome all the hardships faced by them. Ideally, we must not only be prepared to undergo the pain but we also must be prepared to find solutions.
'Meet Campus Nani 'Prema Iyer', an exceptional warrior spirit who managed to cultivate the titan mindset by not only learning to grow from losses, and setbacks but by recognizing her true calling to make a positive difference to the lives of others.
Prema Iyer Interview with Hiranshi Mehta
In this interview with Hiranshi Mehta, Prema Iyer shares her soul-stirring journey of personal growth and how she eventually ended up in earning an exalted title of Campus Nani.
Tell us about yourself.
I was born into a conventional Iyer family. My father was a Central government employee and my mother, a homemaker. When I turned three, my family moved to Delhi. My life changed for better when I secured admission in Lady Sriram College and for that, I am still indebted to my parents. However, the initial tryst with my college life did not begin on a positive note. I was being mocked and then would go on to earn off-putting titles one after another like 'good-for-nothing', 'blockhead', 'ugly duckling', etc. The repercussions of the same led to low-self esteem and stammering. Nevertheless, I somehow managed to regain my confidence in due course of time.
I tied the knot with B.R. Iyer (Indian Air Force Officer) when I was merely 21 years old. At the age of 22, I lost my first baby. I was yet to cope up with this tragedy and yet again another misery hit me hard. The bliss of nuptial journey could not last long as destiny snatched my soul mate and my life partner from me for forever. I found it although more crushing because the same day I indulged in an argument with him about exploring a work opportunity on the ground as I was in my trimester of pregnancy.
This traumatic event triggered the unimaginable feelings of bereavement and emotional shock and the same engulfed me and brought me to a point where I began experiencing suicidal thoughts. However, I was aware of a fact that I am responsible for a life that is growing inside me.
They say that 'You never know how strong you are, until being strong is your only choice.' And perhaps at that moment being strong vas the only choice I had to make.
Post one month of that traumatic event, I gave birth to a baby girl. The very same moment, I had decided that I would ensure that she experiences a normal childhood even if it meant discarding all the taboos associated with the widowhood in our Indian society. Initially, people would frown as I did not wish my identity to be restricted to a white-saree clad widow. I began leading life on my terms and also, I embarked on a journey to discover myself. Every day, I would ask for wisdom and strength. Today, even at the age of 80, my morning ritual begins early at 3.30 am. Perhaps, it is my mission to serve humanity in myriad ways and my gratefulness towards my true calling that ensures I stay energized throughout the day.
What are your strengths and weaknesses?
For millions of years, there have been a few simple questions that humans are yet to decode like 'who came first the chicken or the egg'? So, there is certainly some supreme power governing, the entire universe. I have no clue what precisely it is but I do acknowledge it for sure. Every morning, I wake up with the sense of gratitude and perhaps it is powerful enough to make an impact on my personality in such a manner that people consider me someone whom they can look up to. Today, I am recognized as 'Nani Figure' which, as per our culture is the most vital element. Despite appreciation, popularity and kudos, I stay well-grounded. There is a difference between being a proud person and feeling pride. My strength also lies in understanding this key difference and thereby taking pride in my work. Apart from that, I believe in learning and evolving. I lay emphasize on PQ (Physical Quotient). It is a process to cleanse the impurity of a soul. I stick to 3 D's i.e. Determination, Dedication and Discipline. So, you may say that my resolution towards sticking to my D's is also one of the major strengths.
As far as weakness is concerned, we all do have it. We commit mistakes, I used to feel guilty about it but now I don't. Committing mistake is Nature (Prakriti) but recognizing that mistake is Culture (Sanskriti). A mistake can also be erased but only when it has been recognized. Like for me, I am still working on improving when it comes to losing temper. Weakness will always be there but it is just the question of understanding that you did commit a mistake.
Any movies do you like or you think they inspired you to do something?
Phagun movie is certainly one movie that made a great impact on me. I was over-protective about my daughter even after her marriage. When I watched this movie, I decided to get rid of insecurity and possessiveness as a mother and since then I ensure that she gets her space. This movie indeed turned out to be a major eye-opener to me. Nevertheless, as far as drawing inspiration is concerned, I prefer to look up to diversified role models (Living Examples) rather than depending on movies.
What are your hobbies?
Keeping my house neat and tidy and keeping things in place is my hobby as I am a very well-organized person. Apart from that, I am into dress designing and till today I stitch the majority of my clothes. I love grooming myself. I make beauty products. So, these are few activities besides social service and counseling that keeps me occupied and engaged.
Say out any of your favorite quote or quotes.
When I had nothing, I had patience,
When I got everything, I got humility

Gratitude for me is not an attitude; it is my way of life.
These are not just quotes; this is how I lead my life.
What motivates you in your professional life and personal life?
Today whatever I am it is because few extremely kind souls came into my life and motivated me and also showed me the path. Therefore, a sense of gratitude that I have to find a way to repay their kindness and support is something truly motivates me.
These people helped me in discovering and rediscovering myself. The unique title of 'Campus Nani' too motivates me to make difference to the life of as many as young people as I could.
Today, renowned people belonging to diversified verticals show keenness in connecting with me and that also serves as a great motivation for me.
I believe my voracious appetite for learning and associating myself with a variety of social causes is also something that keeps me motivated. I have been invited to deliver TedTalks by various prestigious universities including GD Goenka, JK Laxmipat University (Jaipur), etc. I am also associated with Samarth (Senior Citizen Forum). My role involves reaching out to isolated senior citizens and inducing them to lend valuable contributions to society.
My post-retirement journey is indeed extremely intriguing. I pursued professional yoga course from Kaivalyadham (Mumbai) and Bhartiya Yoga Sansthan (Delhi). I am a fitness enthusiast and have actively participated in the marathon and have experienced paragliding in Bir Billing. Not many know that I am a trained skin specialist mentored by none other than the Beauty Queen Shahnaz Hussain.
What was your LOW and HIGH POINT of your life?
I would only like to talk about the high point. In the year 2013, I associated myself as an in-house counselor with UPES (University of Petroleum and Energy Studies) in Dehradun. My area of responsibilities included imparting counseling to the students, teachers, even parents. Ironically, yet again, the beginnings were not as smooth as I dreamt of. No one approached me for counseling during the initial days of my stint. Finally, a day came when I decided to take the matters into my hand.
I emphasized on enhancing my visibility and began paying a visit to the football ground, library, and canteen. By god's grace, through word of mouth, my counseling skills began grabbing the attention.
During my counseling role within the campus, I came across many issues faced by students and parents including stalking, low-self esteem, addictions, etc. It is nothing but God's blessings I was able to make a positive impact in their lives.
What people have been great influences in your life and why or how?
The first person towards whom I am extremely grateful is Mrs P.N. Bhatia. She was a Secretary of the Air Force Welfare Association who visited me to get official papers signed. The moment she had a glimpse on my dull and lifeless persona, she lambasted me by asking are you a wife of valiant defense personnel or a coward and said I should be ashamed of myself for leading a miserable life devoid of any purpose. She went on to add that if I loved my husband, I should be nurturing the legacy left behind by ensuring the best upbringing to my daughter. It was due to her recommendations; I became the recipient of a job opportunity.
Then in the year, 1971, I came across Brigadier Avasthi, whose sheer optimism despite facing numerous hardships in life left me speechless. His words still echo in my mind that 'I count my blessings everyday'. Since that day, I too believe in counting my blessings instead of lamenting on my setbacks.
I would like to express my heartfelt gratitude towards Mr Sanjay Kaul (Founder and President of UPES) for asking me to join the university as Nani. Obviously, it made my jaw drop and question him what would a Nani do in the University Campus. He explained that in the wake of a growing number of nuclear families, the young generation does miss the warmth and guidance of elderly family member. He was looking out someone who is rooted in a tradition and yet capable to comprehend the contemporary issues faced by the younger generation and could lend them the required comfort based on non-judgmental listening. It is needless to say that this entire ideology did strike a perfect chord with me and I gave my consent.
During this entire 4 years in UPES, I became the bridge connecting the varied element of the university including teachers, students and parents. My heart went out to the myriad of issues faced by the young generation including peer pressure, addiction, parental pressure, breakups and what not. I simply listened to them and that marked the first step for them towards healing.
I am equally grateful to Dr Chopra (Chancellor) and Dr Shri Hari (Vice-Chancellor) for constantly motivating me and having faith on my vision and my creative techniques related to the counseling.
I would love to express my utmost sincere gratitude towards Mrs Sonia w/o Brigadier Vikram Singh (Pathankot). It was she who organized a session to be delivered by me in Pathankot Army Base. I was accorded the red carpet treatment befitting a senior's officer wife was entitled to receive in the case if her husband would have had been alive. She along with her husband Brigediar Vikram Singh has been the strongest pillar of strength, support and guidance to me. Constant moral support and expert counsel matters a lot during the time of crisis and to provide me with the same, I will remain indebted to both of them for all my life.
After completing 4 years in the university, I associated myself with an organization that was introduced to me by Mr Vikas Manhas. This organization is dedicated to reach out to the families of immortalized soldiers to express utmost gratitude towards their unparalleled sacrifices. It makes them feel that they are not alone in the journey of coping up with the irreplaceable loss. It also lends them required assistance regarding financial support and emotional support. As far as my role is concerned, it encompasses paying visits to the families of immortalized soldiers, delivering motivational talks, counselling on overcoming depression and grief. In simple words, through this organization, I have become an instrument to bring solace to the families of immortal soldiers.
Also, I would urge citizens of our country to step out of their comfort zone to connect with them and bond with them.
What one word or phrase do you want people to associate with your name?
Whenever, people are in middle of a problem or a trouble, the first thing that comes out of the mouth is 'Nani Yaad Aa Gayi' so I aim to be that Nani whom people could think of as the apt person to seek solace.
If you could rewind your life a decade or a few decades back, what would you like to change?
When I was young, my happiness always dependent on something or rather say, it was conditional to me. I believed that when everything would fall into the place, then I will be happy but that so-called moment never came. After all, it is a human tendency to keep postponing happiness by overlooking the beauty of living in a present moment. Then I realized that happiness dwells within one's mind and you do not have to seek it somewhere else. It is something that you discover amidst the toughest situation. So, during the entire process of trial and error, I not only learnt how to be happy but I embarked on a journey to lead a yogic life. So precisely, it is my earlier attitude towards happiness is something that I would like to change.
What words of advice or encouragement do you have to share with people who aim to contribute to humanitarian causes?
My only advice to the people who aim to devote their life to the social cause is, do follow your heart but at the same time do fulfill your responsibilities.
My general advice that may be availed by anybody is that if you happen to face any setback in life, believe it to be a blessing. Whenever you are in doubt, confide in the right person. However, listen to the suggestions but make your own decisions so that you do not have to indulge in a blame game later on.
Besides, I would also like to suggest senior citizens that do not retire from life, come back to life. Try to look for ways to connect with the younger generation.
"Laugh, and the world laughs with you;
Weep, and you weep alone;
For the sad old earth must borrow its mirth,
But has trouble enough of its own.
Sing, and the hills will answer;
Sigh, it is lost on the air;
The echoes bound to a joyful sound,
But shrink from voicing care.
Feast, and your halls are crowded;
Fast, and the world goes by.
Succeed and give, and it helps you live,
But no man can help you die."
Author's Note:
So esteemed readers, if you are ready, read along with us. We have an inconceivable epic tale of Prema Iyer to tell you. Her astonishing determination to learn to swim against the current and to make a positive impact in the lives of millions is truly inspirational. This remarkable tale will certainly make you realize that the warrior's journey is life-long and the only way to gain mastery is by staying on the path.
About the Author:
A Copywriter, an Image Architect, an Apparel Designer, a Brand Strategist, Hiranshi Mehta is National Creative Head with 'TheNationalTv'. Her epistemophilic personality epitomizes her winning personality traits. Outside her professional life, she has a distinctive vantage on world talents and the concept of altruism, the conventional underpinnings of diverse shades of life and of course the creative prowess to blend it all together.
About the CEO:
An Educationist, an Entrepreneur, a Visionary Leader, but above all, a remarkable sophophile, Mr Sunil Sharma's aptitude is not new but it has been discounted as many people fail to appreciate his larger-than-life vision. Nevertheless, he believes in being a trailblazer in the milieu of initiating revolutions in a country that is eager to embrace the vivid cultural and social transformations to make its presence felt on the world's map.
We'd love to hear your thoughts.
Find us on Twitter: https://twitter.com/TheNationalTV
Facebook: https://facebook.com/TheNationalTVofficial/
Instagram: https://www.instagram.com/thenationaltvglobal/
Linkedin: https://www.linkedin.com/company/thenationaltv/
or write into info@thenationaltv.com